Ace, our resident foodie photographer, let us know that our glamping trip to Lindsborg, Kansas, would be extra special for her. Her family members are Swedish-speaking Finns and, well, why don't I just let her tell it?
Take it away, Ace!
Uff da! Where to begin? Lutefisk and köttbullar (Swedish meatballs) have been a Christmas tradition in my farmour's (grandmother's) house my whole life.
My farmour, Ingegerd, was born in Jakobstad, Finland, a Swedish-speaking border town in Finland. And my farfar (grandfather), Edwin, was raised by his Finnish immigrant parents in logging camps in northwest Washington.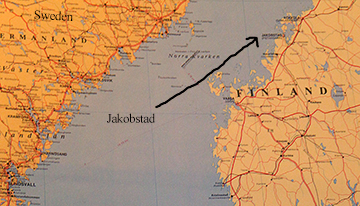 Life was hard for my grandfather. One of his childhood friends, Agnes, wrote two books about her experiences growing up as one of many Scandinavian immigrant families in PNW logging camps. The first, Where the Huckleberries Grow, mentions my grandfather, Edwin, a few times.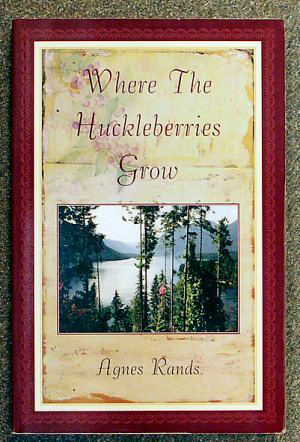 But he always was a proud Finn, through and through! One of his favorite stories to tell was of his 50th birthday, celebrated with family and friends in Finland. My dad and my uncle backpacked for three days into Finland for the surprise.
Here is a picture of my dad (left), uncle, and grandparents visiting family in Jakobstad/Perdersöre. My grandmother, Inge, is wearing her traditional Bunad. Notice my uncle (to the right) striking a pose.
My uncle John plays the accordion and is an avid member of the Sons of Norway, Normana Lodge #3, in Everett, Washington, the local membership group for Scandinavians.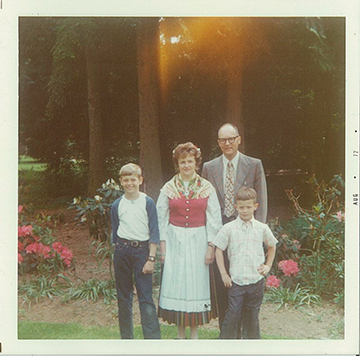 I grew up reading about the Moomintrolls, going to Scandinavian summer camp at Normana, and generally not understanding conversations between my dad's side of the family. (If only they taught Swedish in high school!)
When visiting my grandma, I can still guarantee that the Finnish flag will be flying and a relative from Finland will be on the other end of a phone call.
The summers I spent at Scandinavian camp at Normana are full of treasured memories for me.
Having visited last week, here I am with a new statue of our Viking mascot, Hagar. The "camp" is mainly composed of little cabin houses, a lodge, pool, and lake for fishing. My grandparents have their own cabin there, complete with a Finnish sauna (but of course!).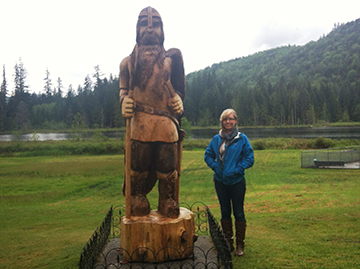 While at camp, I learned traditional dances, rosemaling, plenty of cultural history, and took a lifetime of memories back with me. Here is a picture of me and my camp-mates in our traditional Bunads for the end of camp "dance show."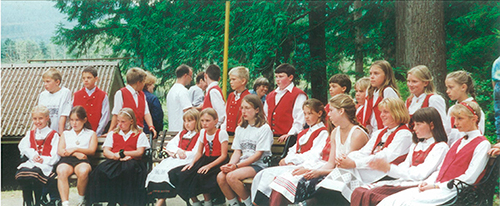 That's me on the left!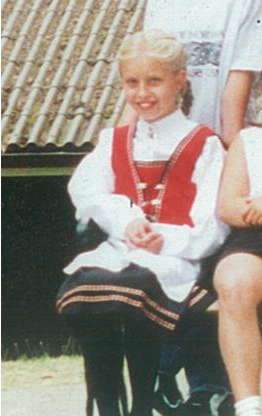 I also spent time a few Christmases as Santa Lucia, singing traditional songs, dressed in a white gown, and wearing candles on my head to celebrate the Winter Solstice. Not what a girl of 13 envisions for themselves! But now, treasured memories of my heritage.
And, while my grandmother, grandfather, father, and uncle speak Swedish fluently, I am schooling myself in my off time. Below, is a picture taken in 1962 of my dad's auntie Alvina from Molpe, who spent the summers with his family when he was growing up. Not speaking a lick of English, she was the catalyst for my dad and uncle to really dig in and learn Swedish.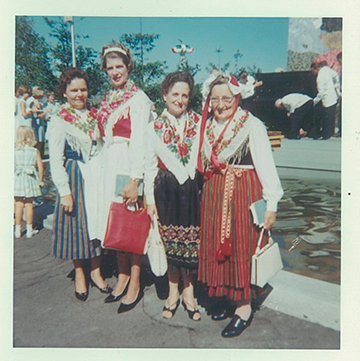 Something look familiar? All grown up! And wearing Alvina's traditional outfit while glamping in Lindsborg. 🙂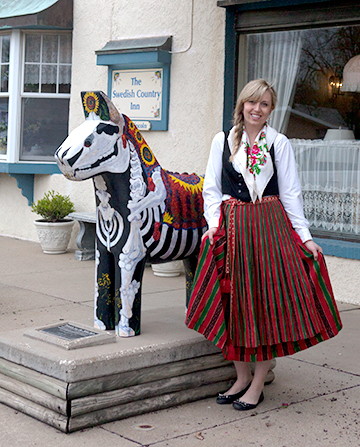 Thanks, MaryJane and Meg, for adding to my wonderful bank of memories!