Here's momma Maizy (4+ years) and her daughter Etta Jane (2+ years). Lots of cuddles and tongue lovin' all day long. I call it cowpassion. I once tried keeping a cow-unity "licking" journal (Jane Goodall style) on all 13 of my bovine buddies, but their licking and interactions are so involved and subject to dramatic changes on any given day, I soon gave up. Who licks who is a series of complexities only they understand. Sort of like office politics or small town living. Maybe there's a bit of gossip happenin' here in this photo? My mother-in-law once joked, "If what you have to say about someone isn't nice … come sit by me."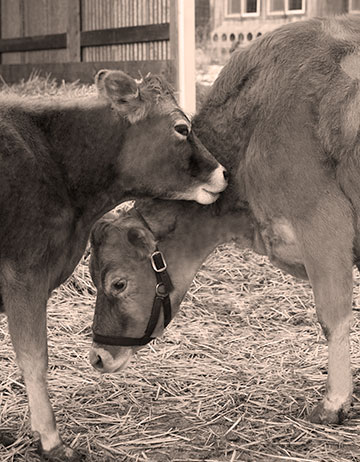 Here's Etta Jane (2+ years) with her only calf so far, Eliza Belle (8 months). Etta Jane is three months along with another calf. Jerseys often darken in the winter, only to turn fawn-colored again in the spring when they lose their winter coats.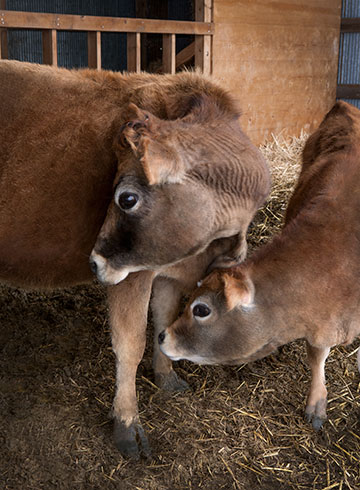 And here's Maizy with her latest addition (third calf—second calf was a boy, Otis), Rose Etta (two weeks old).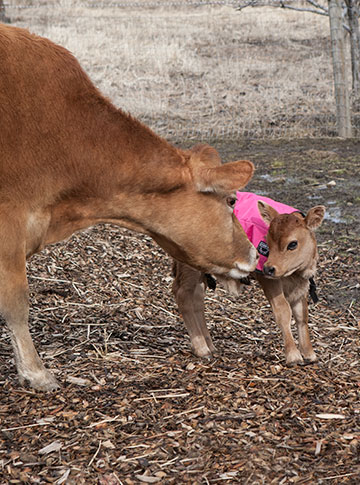 Lots of daily grooming and stimulation. Speaking of saliva baths, I remember my mother getting all five of us kids loaded into the car to go somewhere and discovering a spot on someone's face. She'd put a bit of her hankie into her mouth, wet it, and then rub the spot off. Anyone else's mother do that?