This post is for Winnie. (Ha, I accidently typed in Winner!) So, Winner Winnie, here's Myrtle, the girl wearing the bling light in Sunday's post, as well as today's photo-of-the-day. This is a truck I used to drive, but now that I've turned her into a hay shed (wonderful in her hayday), she's been officially put out to pasture.
Here she is getting her new roof framed up.
And now she's getting covered in reused metal siding from our old barn.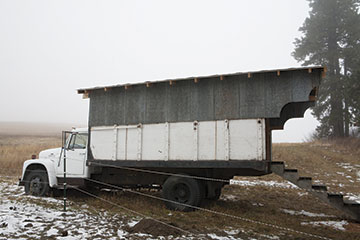 A true Jersey girl!
P.S. Winnie, the yellow flower was the bloom on a kale plant in my greenhouse.