I took Lily out glampin' a few weekends ago to a Forest Service campground near a beautiful Idaho lake with white-sand beaches. I have to say that I have a new appreciation for campgrounds. I've always tried to avoid them, but this was a Butters family reunion, and so a bona fide campground seemed like the easiest thing to do.
As it turns out, I loved it—the sounds of all the people coming and going, the voices of children, babies laughing, people singing around their campfires, guitars, even dogs barking! Walking around the campground at night, I saw every kind of nationality, family size, RV style and size, kids on skateboards, people on bikes … and in thinking about it afterward, what I loved most about it was how happy everyone was. They were, for a tiny fraction of their lives, exactly where they were hard-wired to be. Outdoors.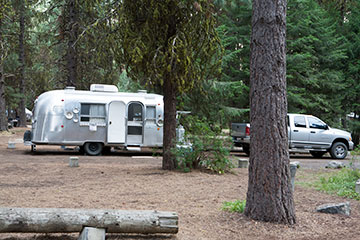 My Airstream is named Lily because of a beautiful vintage painting that adorns her bedroom partition.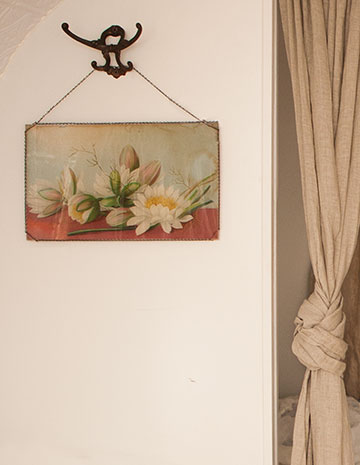 As were leaving the farm and getting on the road (my husband driving his own truck/camper), I looked behind me to see if we were still a convoy, but he'd disappeared. My son and his wife were in a Jeep with a teardrop trailer in tow and my daughter and her husband were in a truck pulling our Tabitha. As it turns out, my husband had hopped out to pick a matching pink lily from my garden for me to enjoy all weekend. What an aroma they give! My lily smelled like a lily all weekend. (And my husband is a big ole sweetheart!)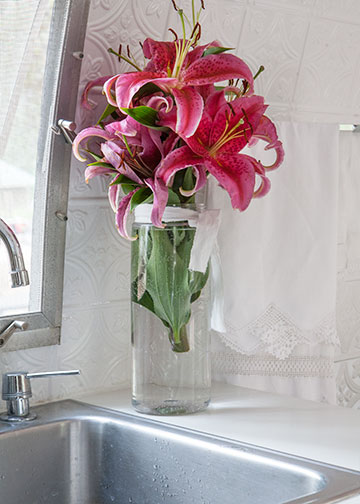 Slacker came too.
And four of my grandgirls.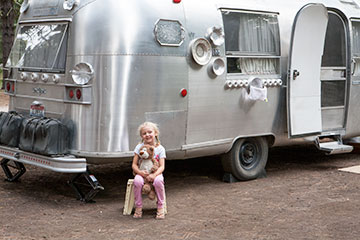 Here are some glamour shots of Lily adorned in her vintage gelatin molds. They always put a smile on people's faces.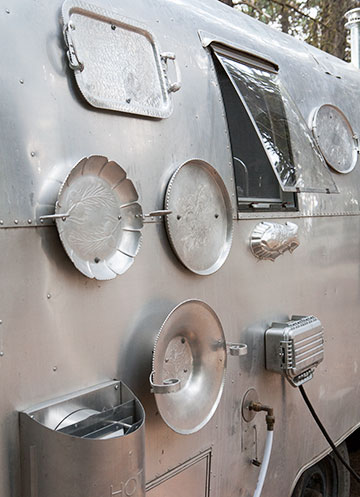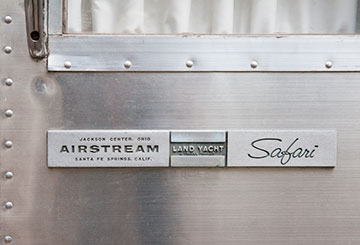 And some interior shots I'd taken earlier. I actually bolted a 4′ cast-iron bathtub to the floor. I use a propane on-demand hot-water heater to fill it. Luxurious! And the floor is a portion of a basketball court that was up for grabs from our local building recycler.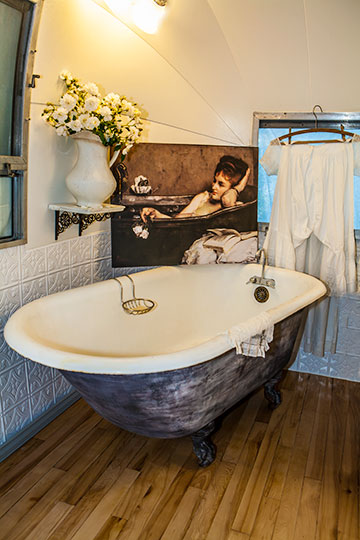 The linen curtains and bedding are made from some rather ugly curtains on sale at Bed-Bath-Beyond that had big 2″ grommets in the tops. I cut those off and used an entire extra curtain to make the ruffles. Love linen fabric that is gauzy like these are!