UPDATE 6/28/2017:
A heartfelt thank you!!!!!! to everyone who signed up to be a Tabitha owner. We'd love to continue hearing about your many adventures! The crowning moment for us was when my daughter and her family passed another Tabitha owner two hours over the border in the neighboring state of Washington. As is so often the case, manufacturing and businesses change. T@bithas, as part of the T@b family, are still in good hands but we're going to take a hiatus from the production of them while the re-branded company producing the well-know T@b teardrop gets up and running. If you are interested in buying a new or used Tabitha, please contact your local dealer to find out if they can track one down for you, https://nucamprv.com/dealer-locator/
>>>>>>>>>>>>>>>>>>>>>>>>>>>>>>>>>>>>>>>>>>>>>>>>>>>>>>>>>>>>>>>>>>>
12/8/2013
Tabitha is finally ready and orders coming in …
(Thanks for your patience; we had a lot of manufacturing details to iron out.)
Here's the brochure we made for RV dealers across the U.S. who are offering her for sale. (Readable text printed below each page.) Or you can read it online here: http://www.maryjanesfarm.org/Tabitha_Brochure.pdf. Scroll down on this post where you will find even more photos and a Q&A section. If you've asked us a question, you'll find the answer further on.
With news giants like The New York Times, The Wall Street Journal, the Today Show, and CNN finally giving glampers their due, it's high time for an official designated glamper. And who else to design it but the woman (moi) who pioneered the concept of glamour+camping?
Here at last is your dream machine! "But why a shiny NEW one?" you ask. Over the years, I've received letters like this: "How do I get started? I'm so afraid of buying something old for fear I won't be able to complete it or it will be such a lemon it will never see the road. I've never refinished anything. But I LOVE your idea and I love camping."
Well, YOU'RE the reason I created the care-free, ready-to-roll, lightweight, easy-to-manage-but-fully-loaded T@bitha. All you have to do is dust off your prom dress, pack up your mule (she's so dainty that small cars like a Subaru Outback can tow her), load up on chocolate, gather up your glamping gal friends, and pick out a NAME. What adventurous, out-of-the-box gal doesn't love an old-fashioned double name? Or a triple name … Rosie Royce T@bitha anyone? How about Annie Mae T@bitha or Rebekka Jean T@bitha or Lacy Lou T@bitha or just plain old Tabby T@bitha? I named mine Honey Bee T@bitha.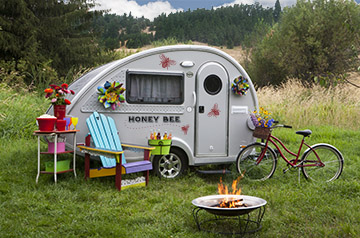 She could be yours!
Fully loaded but lightweight (easily towed by most vehicles), the T@bitha gives you some serious bragging rights: non-toxic Marmoleum flooring, neutral tones (blank canvas for the decorator in you), antiqued glazed birch-wood cabinetry, stainless-steel counters, indoor/outdoor stainless-steel table with U-shaped couch seating that converts into a 70″ x 72″ mattress, toilet/shower, stabilizer jacks, 3-way fridge, LED TV/entertainment center, AC/heat, 2-burner gas stove, electric brakes, and so much more! Also available: attachable awning or tent, all-weather UV cover, and contrasting skin/trim colors.
Oh, there's one more thing this Idaho Jane forgot to tell you. I intentionally gave T@bitha an interior design that is feminine but neutral because I also know how unique your design ideas are. T@bitha is almost a blank slate (actually, her floor and upholstery are the color of slate) so that you can decorate her to your heart's content.
Interior Features
Sustainable, Eco-friendly Marmoleum Flooring
White & Espresso Glazed Birch Wood Cabinetry
Neutral, Wales Grey, Linen Upholstery
Stainless-steel Counter Top
Easy Up Indoor/Outdoor Stainless-steel Table
LED Light Fixtures
3-Way Norcold Fridge
Alde Heat System
19" LED TV w/Hassel-free DVD/MP3/CD/AM-FMEntertainment Center
2-Burner Gas Stove w/Glass Top
Sink with 12v Water Pump
Fan Tastic Powered Vent/Fan
U-Shaped Couch/Seating Area converts to a 70" x 72" Mattress
Full Wet Bath w/shower
Duo-pane Side Windows w/Roll-away Shades & Screens
Front Window w/Roll-away Shade
Bathroom Side Portal Window
Exterior Features
Skin Color Options: Silver or White
Trim Color Options: Red, Teal, Silver, Black, Blue, Yellow, or Orange
Pre-Installed Keder Rail System for Awning and Tent
Electric Brake System
Diamond Plate Gravel Guard
Propane Tank and Battery Storage Tongue Box
14" Alloy Wheels
2 sets of Stabilizer Jacks
Ship-to-Shore Power & City Water Hook-up

          
Additional Options
Tent for Keder Rail Install System
Awning for Keder Rail Install System
UV Resistant, All-weather Cover
15'2″ (tip to tail) 89″ tall 76″ Wide, 1670 lbs
Amish-made in the U.S.A. $21,995* (Ask for Tabitha at a RV dealer near you!)
*Shipping and/or dealer prep charges not included.
Tabitha Q&A
Question: The brochure says that the T@bitha has just a 9″ LED TV, but the picture of the T@bitha shows a 19″ TV. Is it just a mistake in the brochure?
Answer: Yes that was a mistake in the brochure; the TV is a 19" LED. It's fixed now; sorry about that!
Question: Is there a window in the shower/toilet that requires a curtain?
Answer: Yes there is a window in the shower/toilet. In the photos provided, we've taken a window valance (from our MaryJane's Home bedding collection) and customized it to fit that size window. We like to call that "farmgirl style!"  We found some inexpensive adjustable curtain rods and attached them to the wall with Velcro so that the curtain can be installed when needed and then easily taken down and stored for transit.  If this doesn't suit your fancy, you can use the in-window blind that comes with the Tabitha , called a Peek-a-boo Shutter, that sticks to the window and can be swiveled to open or shut, here is a YouTube video from a customer with a sailboat that has installed them in the sail boat's cabin: (obviously yours would be round, but the concept and function are the same.)
Question: The window in the door looked tinted. Is Tabitha's door window tinted? 
Answer: Yes, the window in the door is tinted.
Question: Is it possible to see a photo of the flooring?
Answer: Here is a link to a picture swatch of the Marmoleum flooring color. And here is a link giving more information on non-toxic Marmoleum.
Question: What is the floor plan of the Tabitha?
Answer: It's an "S" floor plan. You can find it here.
Question: It doesn't appear there's a dealer in Arizona where I can buy a Tabitha. Can I buy it direct from the manufacturer?
Answer: Tabitha is American made in Sugar Creek, Ohio. Our guy Joe who makes them says that you must buy Tabitha from a dealer. Even if he attends an RV show he makes sure he's with a dealer who can sell the Tabitha should someone want to buy it on the spot. Here's a dealer in Arizona who can sell you a Tabitha:
Tom's Camperland http://www.tomscamperland.com/ East Valley- 480-894-1267; West Valley- 623-977-2888; tomscamperland2@aol.com Phoenix- 602-258-3663; tomscamperland@aol.com
Question: Do you have more photos besides those in the pretty brochure?
Answer: Yes, here are a few more: