Steve Wescott has been on the road for three years, traveling across the U.S.—on foot—with a goat named LeeRoy Brown. Steve and LeeRoy started the 2,800-mile journey at Seattle's Space Needle and intend to end up in Times Square in New York City. He calls his project Needle2Square.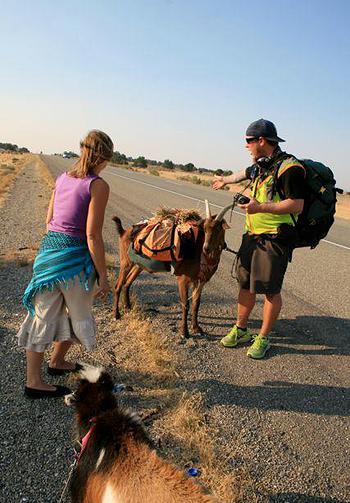 Why, you might ask? And why a goat?
Steve is trying to raise awareness and funds for Uzima Outreach and Intervention, a Kenya-based ministry for substance-addicted adults and neglected and orphaned children. When Steve set out, he intended to walk 10 miles a day, which would have put him in NYC in just a year. But Steve and LeeRoy have been on the road now for three years, due to injuries and the myriad of people who stop them to find out the story behind the unusual pair. The extended time has put the duo in the public eye, only helping Steve's cause. Now, a documentary and reality TV show are in the works. Say hello to LeeRoy Brown, the baddest goat in the whole dang town, and the first-ever reality-TV goat star.
Follow Steve and LeeRoy at Needle2Square.com.