Look who's gotten into glamping …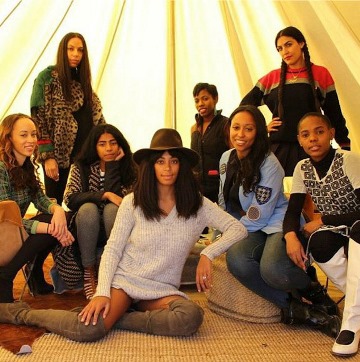 Beyoncé's sister, Solange, and some very fashionable friends went glamping in California's Joshua Tree National Park for New Year's Eve.
While there, they took an epic group photo that got me to wondering if Solange might be interested in knowing …
how glamping got its start.
Dearest Solange,
Several years ago, myself and some B&B guests were sitting around a morning campfire (hope you got to enjoy one also, BTW, love your hat) when the husband of one of our couples (housed in tent 3) said, "You know, I have to tell you, when my wife said we were coming over here to spend perfectly good money to use an outhouse, I told her, 'This MaryJane thing's got you catnipped,' but now that I've been here and seen it, I'm thinking I'll go back home, buy a wall tent, put it up the way you've done, and the missus and I will finally have our cabin in the woods. So yeah, I get the girly camping thing now. But I'll have to let her do the glamour part of it." I said, "Right, how about we call it glamping?" To which we toasted our enamel coffee cups.
Now that someone like yourself gets it too, I'm thinking a star was born that morning (BTW, loved your wedding also, congratulations!).
MaryJane Butters (the woman who ever-so-proudly pioneered the concept)
P.S. Thanks for taking glamping to its highest fruition yet!!!!! Here's my Airstream.
P.P.S. Next time you go, let me send you some of our s'more kits (w/our homemade marshmallows and organic graham crackers).