Welcome New Sisters! (click for current roster)
Merit Badge Awardees (click for latest awards)
My featured Merit Badge Awardee of the Week is … Debbie Klann!!!
Debbie Klann (#770) has received a certificate of achievement in Farm Kitchen for earning a Beginner, Intermediate & Expert Level Bread Making Merit Badge!
"I have been baking bread since I was a newlywed 32 years ago, but have learned MUCH in those 32 years! I've always known baking is more of an exact science … getting just the right amount of leavening agents so your product turns out the way you want it to.
While I've always used baking powder and baking soda when called for, I was never exactly sure what made each one similar and different. I recently read up on how each works and how they are not interchangeable!
I also learned that baking soda is about 4x the strength of baking powder and why you will sometimes need to use each one in the same recipe.
I've made several recipes using baking powder, baking soda, and cream of tartar. One of my favorite recipes was an Amish Sugar Cookie, which used cream of tartar and soda. I loved the silky texture. My favorite biscuit recipe calls for an addition of cream of tartar. They were higher and finer textured than some that I have tried. I also tried making a Cream Biscuit using a self-rising flour and cream. These seemed to raise well … and then deflated quickly! I always use unbleached flour and have recently found a whole-wheat pastry flour from soft wheat that makes the most delicate pie crust!
For my Intermediate level, I baked some bread. I love making my own bread. Store bought does not even compare. And the smell that fills your house is wonderful!
I've used several types of yeast in my breadmaking … regular active dry yeast, quick-rising yeast, and a special yeast for pizza dough. I prefer just the regular yeast over the quick-rising. I just prefer the texture and how it works better. I really do like the pizza-dough yeast. I think it gives it just the right amount of leavening.
Besides making our weekly bread, I also make some special dark dinner rolls that have cocoa powder, whole wheat flour, and orange juice. They were a big hit with the family!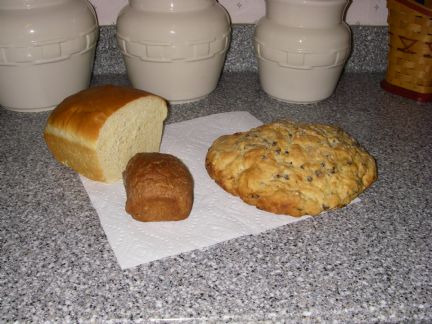 I also tried an Irish Soda Bread. I remember reading when I was young in the Little House books how Laura's mother would make it for the holidays. The recipe I tried included whiskey, caraway seeds, and raisins, but I substituted currants. I wasn't too sure how this mix of ingredients would taste together … but it really wasn't too bad! I still prefer the texture of a yeast bread to one made with baking soda.
Expert level required sourdough mothers. Over the years, I have tried several different sourdough starter recipes … some created so much gas they blew the lid right off the jar, and some never did much of anything. I finally found one that worked for me. I used the starter recipe in the King Arthur Flour baking book. This one uses a rye flour to start, eventually being replaced over the next 10 days or so with unbleached flour.
This starter was by far the best I've ever used. I tried a new sourdough biscuit recipe that was "ok." I thought it was a little dry. But the sourdough pancakes were divine! The batter foamed up like meringue, and they were a little slice of heaven! Definitely worth keeping a starter JUST for those pancakes.
I did learn that even if you keep your starter in the fridge while you're not actively using it, you still need to feed it once a week."