Wondering who I am? I'm Merit Badge Awardee Jane (MBA Jane for short). In my former life …
Some badges are just plain tasty. Homemade potato chips, organic grocery shopping …
Visiting Gramma Barbie in Florida this week gave me a fabulous chance to earn my Families Forever Badge. Not only was I going to be there (in Gramma's posh retirement home—hellooooooo, pool boys), but Auntie Skipper and Auntie Kelly were visiting as well. It was the perfect chance for some good old-fashioned fun …
Game Night!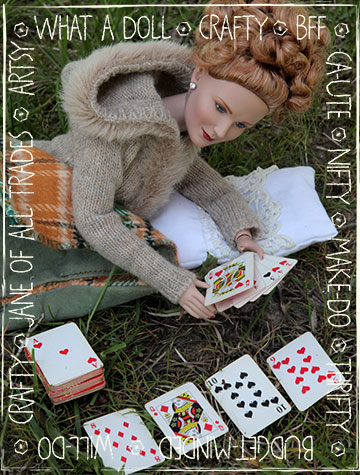 Of course, I had forgotten how cutthroat Gramma is at board games, and since she spends like, six days a week playing Bingo with her girlfriends, sippin' their sweet tea and talking about their kids, I didn't really stand a chance. Thank goodness I've always been her favorite or she'd have taken me for all I was worth. As it was, I wagered (and lost) two pairs of Manolo Blahniks and a Gucci bag during Gin Rummy. Incidentally, there is no Gin or Rum involved, which I found to be a bit misleading. (Actually, the Gucci was a Guci that I bought from a vendor outside the mall. I was blinded by the salesman's French accent and didn't notice the spelling. I'm banking Gramma won't notice either).
Anyhow, things were going fine until Auntie Kelly brought out Taboo, and it was all downhill from there. I was paired with her, and let's just say our two minds do not work well as one. Gramma kept merrily beeping me with that annoying buzzer every time I slipped up, and she and Auntie Skipper pretty much annihilated us. I kept getting these crazy hard words: for example, Queen Victoria. So I yelled "Cate Blanchett!" because, of course, she played her in the movie (only she didn't, that was Queen Elizabeth, I guess) and Auntie Kelly didn't know what I was talking about, and after we got through the whole wrong queen debacle, I shouted "Beckham!" because that was the only other Victoria I could think of. Then Auntie Kelly yelled, "Bend it like Beckham!" and I was like, "No, no, focus! Posh Spice! Posh Spice!" and then she was all, like, "Hit me, baby, one more time!" and I was like, oh for crying out loud, that's Britney Spears, and haven't you ever heard of Victoria Beckham? And that was when Gramma Barbie buzzed me cuz I said the word Victoria.
Again.
With a really maniacal chuckle, too.
So, we gave up on Taboo and moved on to Scrabble, which I totally thought was really unfair because I'm not like, the world's best speller, plus they all know bigger words than I do and they said I can't abbreviate or use text speak, which is so unreasonable. KWIM?
So, all in all, all the family bonding was getting a little distressing for Yours Truly, but I made it through, and by the time we got to Clue, I absolutely cleaned the floor with them. No one deduces like I deduce! I've got total detective skills. I think it's from reading all those Nancy Drew mystery stories when I was a kid. Not a lot gets by me; I'm terribly observant.
Well, except when it comes to French salesmen, and I consider that a weakness, not a flaw.