Wondering who I am? I'm Merit Badge Awardee Jane (MBA Jane for short). In my former life …
My first thought: now this is an unusual badge.
My second thought: this is a badge I can rock!
My third thought: I got rhythm … I got music … who could ask for anything more? Well, a girl could ask for Gene Kelly, but I'm realistic.
A whole merit badge on music; I am sooo ready for this.
I was sooo over confident.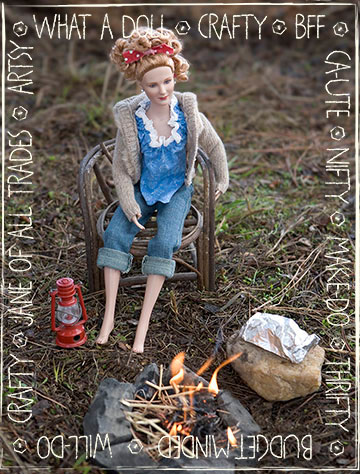 Turns out I'm not as melodiously gifted as I once thought. I mean, yeah, I can peg the winner of American Idol three weeks in, sure, and I can nail a few childhood campfire songs. And you can bet I'm a good go-to karaoke partner, but REALLY knowing the ins and outs of crooning? Well, surprisingly enough, there's more to it than I originally thought.
Like, first off, rhythm. Let's face it; I have about as much rhythm in my soul as Steve Martin. Which is to say…umm, not much. But that doesn't mean I can't (attempt to) rock out with a little B.B. King now and then!
In order to really stretch my imagination and hear different types of melodies and harmonies and such, I loaned my Ipod to the most eclectic young musician I know: a real cool cat named Treble Clef Cliff, who plays sax at my local coffee shop. He loaded me up with all sorts of strange and wonderful tunes – things I never would have picked out or knew existed on my own.
There were blues, R and B, bluegrass fiddle, polka, country, gospel, soul, pop, rock and roll, hair bands, classical, Broadway, even some rap. Who knew I could learn to appreciate all these styles? I was blown away, harmoniously speaking.
I was addicted to the sweet strains of Bach … Mel Torme, the Velvet Fog … the snappin' sound of The Beatles … the fiddle behind the angelic tones of Alison Krause and Union Station … the story of Les Miserables … I just couldn't get enough.
Before I knew it, I was belting out Carrie Underwood while vacuuming, and singing The Pirates of Penzance while dusting. I cooked to the delightful beat of the Los Lonely Boys, and washed the dinner dishes to a little Taj Mahal.  At church on Sunday I knew every last stanza to How Great Thou Art and left my pastor wide-eyed and overcome with emotion. 'Course, I was probably a little off key and the high notes kinda got me, but I think he was suitably impressed. And I'm positive the Lord was.
I am so enjoying my new musical knowledge that I deleted some of my Top Twenty mumbo jumbo in order to make room for Elvis and some more Frank Sinatra. I'm even thinking of making it my life's work to "borrow" young teenager's Ipods and do for them what Treble Clef Cliff did for me.