What a find. Hard to imagine the situation in which a woman carved clothespins from select tree branches and then wrapped some scrap metal around the ends so they wouldn't split entirely. Then, THEN, she hollowed out a larger branch and covered one end in a piece of leather to hold her FOUR clothespins. Precious indeed. How I wish I knew the history of these pins.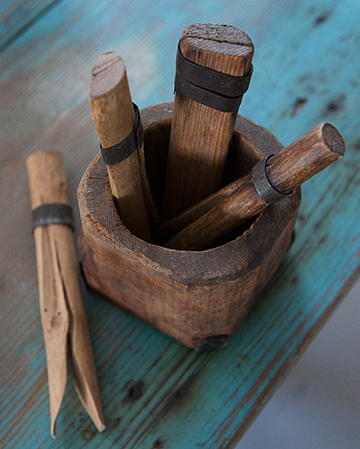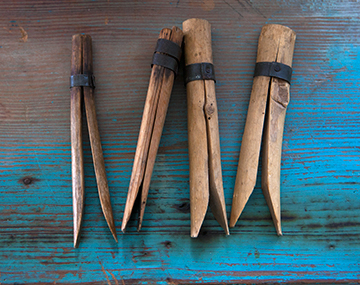 Ah, it's the little things in life …
The obvious, the humble,
The all-too-often overlooked.
With all of the big, glitzy gifts to be grateful for in a day (like, say, food and shelter), we tend to take such small conveniences for granted.
Clip it, and forget it.
Poor pin.
So, come on, sisters—let's show 'em a little love.
Hear ye, little clothespin—whether you're a prim one-piece peg or the snazzy spring-clamp sort,
we salute you!
According to Barbara Suit Janssen, a curator at the Smithsonian National Museum of American History, "The earliest clothespins were just handmade, carved from wood."
I'm appreciating my pins more by the minute …
Despite the cool colors and ginchy gizmos that have jazzed up clothespins in the modern era, I admit that I adore the elegant simplicity of a carved wooden peg. From its gently curved crown to its sleek, ladylike legs, the old-fashioned clothespin—originally known as a gypsy peg—is an undeniable classic.
But who's behind the pin that has secured generations of freshly washed clothes on windblown lines?
Most historians agree that the Shakers are responsible for this small wonder (I'd bet that it was a sharp Shaker mom who fashioned the very first peg). The Shakers may have come to America seeking religious freedom, but they made history for their crafty practicality. Necessity, after all, is the mother of invention, and the Shakers were keen on coming up with gadgets that made life more efficient. When you imagine the myriad methods that people might have employed to keep laundry on a line (weights, knots, kids—who knows?), the meager clothespin suddenly seems like a stroke of genius.
Of course, leave it to men to lay claim to such a handy device …
"The survival of the spring-hinged clothespin into the modern era is an unlikely story of Darwinian selection," reports the New York Times. "From 1852 to 1887, the U.S. patent office issued 146 separate patents for clothespins. The first design that resembles the modern clothespin was patented in 1853 by David M. Smith, a prolific Vermont inventor."
Smith was responsible for initiating the modern hinged pin, but his design was refined in 1887 by another Vermont inventor, Solon E. Moore, who simplified his predecessor's double-hinged pin with a single coil spring that stuck. We're still using it today. Alas, it seems the other 144 patented pins have been lost along the way.
The Times contends that, "In the age of Maytag, the clothespin's survival can be attributed, in part, to its usefulness in craft projects and how easily it can be converted into reindeer."
Touché.
Clothespins do make cute crafts, but I believe there's more to the pin's persistence than elementary art projects. For one thing, there is something in the clothespin's simple, utilitarian elegance that inspires reverence on a grand scale.
Skeptical?
Take a gander at this superb sculpture in Belgium:
And how about the famous giant clothespin crafted by American sculptor Claus Oldenburg in Philadelphia?
All artistic inspiration aside, though, clothespins are also a cultural staple, due to the basic fact that ladies like me love line drying. Look around, and you'll notice that there continues to be a laundry revolution sweeping the nation. People everywhere are pinching pennies and saving energy by drying their duds in the open air.
With nothing to latch our laundry to the line, we'd be tossing towels over the nearest tree branch.
I love life's little things. Don't even get me started on the spoon …