Wondering who I am? I'm Merit Badge Awardee Jane (MBA Jane for short). In my former life …
For this week's Merit Badge, I decided to tackle cross-stitching! Why, you ask? Well, that's easy. I started a book club.
Huh?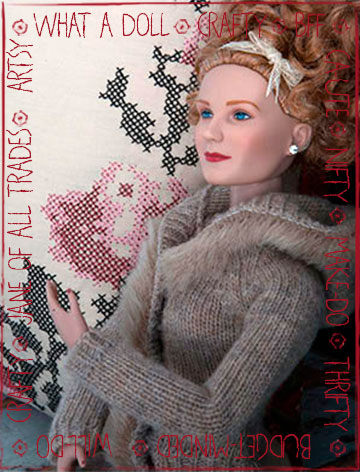 Let me explain.
I got it in my head to have a little gift for my girls when they arrived. You know, so I can live up to my reputation as Hostess with the Mostess. What better gift for my little bookworms than bookmarks, right? Right!
I found the sweet little templates at the craft store (where my favorite clerk was rocking her ruffled apron, BTW) and picked out a whole ton of fun, colored threads. I decided to stick to autumnal colors and nearly bought out the orange section in my sudden craving for all things pumpkin.
I had a total of five bookmarks to make, and to get the feel before I went all crafty and artsy and over my head, I decided to do my first one with a full-on pattern. This is called counted cross-stitching, I learned.
How hard can it be to count stitches? Well, how ADD are you? Can you chew gum and rub your tummy? Pat your head and walk? Wait. I mean—never mind.
Oh, shiny!
Ten, eleven, twelve –
squirrel!
fourteen, fifteen, sixteen –
sandwich!
So, maybe counted cross-stitch wasn't my thing.
Quitting while I was ahead (and by "ahead," I mean not too dreadfully behind), I abandoned the counting, and with the next bookmark, I used a colored template. So I didn't have to count, but I still had something to guide me when my thoughts wandered into sandwich territory.
Mmmm. Turkey and cranberry, with cream cheese …
This was better, and the result was very nearly a legible bookmark. It may or may not say Betsy's Boks instead of Betsy's Books, but really, if you squint, it's hardly noticeable. Besides, Betsy is notoriously farsighted. She has to prop her book open all the way across the couch. I figure I'm golden.
So, by the third bookmark, eyes crossed (dare I hope, not permanently), fingers pricked, and thread count getting low, I was getting the hang of it. I determined to take a cue from my rogue quilting days, and abandon the patterns and just free-style, baby!
The ending result with the last three bookmarks? Artistic!
Avant-garde! You might say.
Surrealism! Shout the masses.
Abstract! Says I.
Pseudo realism! For sure.
Less Monet, perhaps, and more Dali, in form, but my bookmarks are unique. One of a kind. Hey, just like my friends! And I think I've got the hang of this cross-stitching stuff now. I may not be ready to open my own Etsy shop just yet, but stranger things have happened …
In order to personalize my gifts even more, I looped some lovely ribbons through the top, to stick merrily out the spines of their books, braided them, and even hung a sweet charm on the end. Seriously. Cutest things ever.
Etsy who?
Jane's Bokmarks are where it's at!