Wondering who I am? I'm Merit Badge Awardee Jane (MBA Jane for short). In my former life …
Mr. Wonderful has a wonderful way of being involved in the community that I've really sat up and taken notice of. I decided to take a page from his book, so to speak, and really up my connection to my hometown … and what do you know? There's a merit badge for just such community spirit!
I have to admit to being a little intimidated by going to a town council meeting, but on the other side of that nervous pancake, I have always kind of wondered what they talk about in there. I mean, were they discussing the length of my grass, the state of my favorite downtown restaurants, voting in a new Bed, Bath and Beyond? What was all the chatter about every third Wednesday?
I resolved to find out by giving myself a new do and picking out an I-mean-business outfit.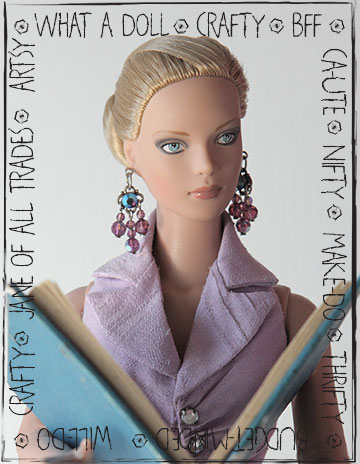 First, I figured I needed a reason for going; you know, in case they drilled me or quizzed me about my presence and/or knowledge about the city itself. I've had this idea of starting a community garden for a while now. Well, ever since my herbs really took off and I found myself admiring my thumbs (greener by the day, wouldn't you know), I knew I'd need more than just a harebrained scheme, so I printed out some information on other city gardens (including photos), did a little crunching of the numbers, and even brought along my neighbor, who just so happens to own half a block and doesn't use most of it. He was more than happy to listen to my idea, and it was good practice giving him my spiel first.
I wore my take-me-serious pencil skirt and sky-high heels, since suddenly my little project was becoming my baby and I really wanted to look like I knew what I was doing! Suddenly, it wasn't about earning a badge or impressing Mr. Wonderful; I really, really wanted that garden!
I could picture it already: small urchins—er, I mean, children—digging up carrots and munching on strawberries, moms coming out to pick fresh lettuce for their green salads, dads taking fruit in their lunchboxes instead of a bag of chips … and the Date Nights! I could just imagine Mr. Wonderful and me, strolling through the beets, hand in hand, feeding each other Swiss chard …
Ahem. Sorry, got taken away by a romantic fantasy for a minute there!
Back to business.
I was surprised at how many people I knew at the meeting, and I was equally surprised at how many I didn't know! It was a very bonding experience, I must say. Though our opinions and priorities may have differed, we were all there for one reason:
To improve our community.
Well, except for Nude Dude who was trying to get a nudity law passed. Again. He tries this every year. We were all very proud of him for wearing clothing to the meeting.
At last, it was my turn. I was so nervous, I nearly crumpled like a lawn chair. But I took a good look at all my new friends and knew I'd be okay. I even got a smattering of applause, which I took as a good sign.
Will my community garden be a dream forever, or will it flower, blossom, and ripen? Stay tuned …