Wondering who I am? I'm Merit Badge Awardee Jane (MBA Jane for short). In my former life …
Now that the dulcet strains of Olivia Newton John are stuck your head for the rest of the day, let's talk fitness! (It's actually a merit badge.) Since I've made over my diet pretty darn well in the past year (goodbye, Mr. Chips, hello, Mr. Fruit Smoothie), I have finally decided to tackle the other part of my health plan.
Exercise.
Is it just moi, or did that word send shivers down your spine? I'm breaking a sweat just thinking about breaking a sweat. I feel like I need a good cooling down, and I haven't done the aerobic activity yet. This is bad.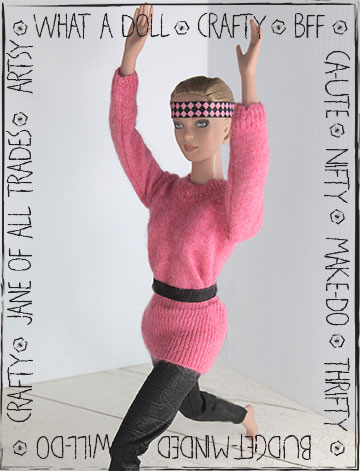 Being overwhelmed, and also a bit wimpy, I thought I'd try out a few different exercise options before I committed to the one for me. I already knew running was out (unless a bear is chasing me), I'm not coordinated enough for Zumba, and Yoga twists me into pretzel shapes that I would need a Jaws of Life to get out of. What to do to shrink my midsection and strengthen my spaghetti arms?
As I contemplated my dilemma, I sat out on my front porch. There was a group of elementary-school-age children playing Kick the Can.
Suddenly, I had an idea!
I would skip exercise for the fifth year in a row, and do some canning!
Just kidding.
I asked to play. At first they looked at me like I had grass growing out of my ears, but I assured them it was only my sweatband (back to Olivia again). I laced up my cross trainers, hitched up my sports bra, and adjusted my leg warmers (have I taken Olivia too far? You decide).
At first, the little whippersnappers went easy on me, I could tell. But, I demanded they treat me like their peers, and after a little conference amongst themselves, they agreed. The little munchkins were cutthroat! Brutal! Bloodthirsty! Never have I seen such violence and mayhem!
At the end of an hour, I had shin splints, a skinned knee, and my sweatband was not living up to its promises. Sweat was dripping in my eyes, but it was all worth it: I won! That's right! I beat those 9-year-olds, but good!
I did a little victory dance (a little Cabbage Patch, mixed with the Sprinkler), while they took their balls and went home.
"Come back!" I yelled. "We're just getting started!"
"We have homework!" they yelled back. "And chores! And it's Mac and Cheese night!"
Well, drat.
"See you tomorrow?" I begged. "How about we play H.O.R.S.E.? Or Double Dutch? Or hopscotch? I gotta hit my burn, kids!"
They promised they would ask their mommies, and I went home happy, sweaty, and totally committed to my new workout regime.
What would I do during school hours? Well, I'm thinking of organizing a Neighborhood Roller Derby.
Strap on your skates, girls. (And your leg warmers). It's gonna be a wild and wooly ride!