Check out this quilt from Brigitte Giblin Quilts … truly stunning!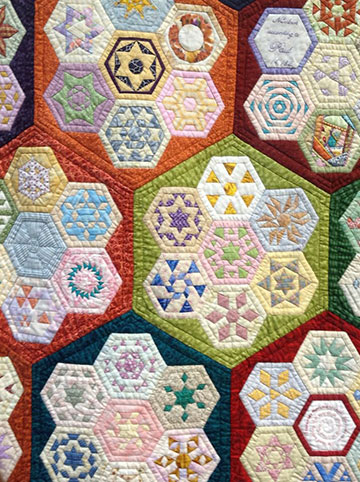 Anything hexagon has always stopped me in my tracks. So much so, I chose the hexagon to frame the design for our Farmgirl Sisterhood Henrietta badge …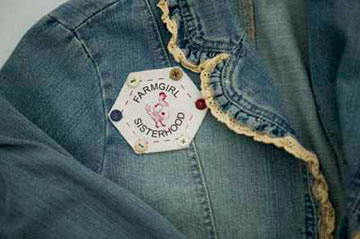 Brigitte's blog, Feathering the Nest with Vintage with Vintage Inspired Quilts, features instructions for this pattern: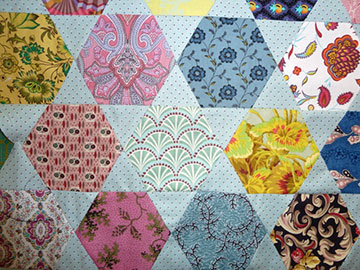 Why did I choose a hexagon for my Farmgirl Sisterhood badge? The hexagon, a shape that speaks the zen of the busy beehive or the wired manors of chickens (the oldest domesticated animal on Earth), symbolizes the unity and structure of the farmgirl life—a framework for the proper order of things, a pattern for life. In unwritten feminine language, it is a standard for farmgirls, or for that matter, the ordinary honeybee or the hen, rank and file workers that move the work along. It says that all things are to be done decently and in order, and that small things add up.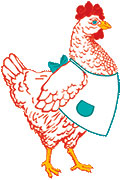 And why a hen? We call our hen "Henrietta." She symbolizes the "can do" attitude of being a farmgirl. What are the noble farmgirl traits? Farmgirls are multi-talented, resourceful, creative, strong, down-to-earth, and generous by nature. We enjoy creating things, whether it is in the kitchen, our studios, or the wood shop. We may not live in the country, but friendship, fun, community, and creativity bloom wherever we happen to be "planted."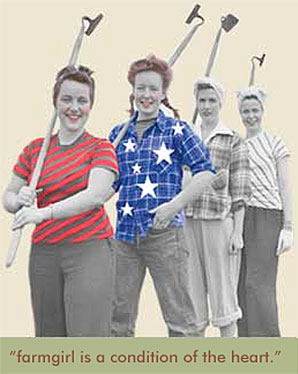 In other words, farmgirls can do anything they set their minds to, sorta' like the Little Red Hen in the famous children's story. We enjoy the fun of getting together to create, to help others in our communities, or to share ideas. We believe in the power of the Farmgirl Sisterhood to change the world for the better! (And you can earn merit badges to prove it. Think girl scouts for grow-ups.) If this sounds like you, check out MaryJane's Farmgirl Sisterhood and my Chatroom, where women connect on farming, canning, sewing, family life, kids, DIY, and more, from all over the world. We're 4,700 strong and counting. We want YOU to join us!