I've been deliriously happy and grateful the last year over something that is well, mmmmmm, kind of unmentionable.
"She isn't!" (Carol's voice.)
Yes, I am.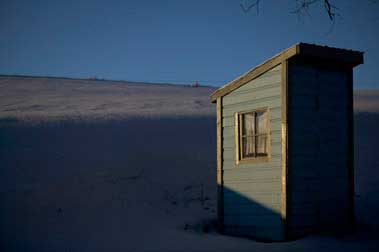 I'm going to share my feelings of gratitude for my new indoor private flush toilet, the one I've lived without for 23 consecutive years, 30 total. I feel a little bit like the woman I heard about who couldn't reach her clothesline so she moved a stool around her entire life. I should have done it sooner, but new septic regulations came with a price tag that was close to $10,000. That's a lot of money when merely moving a stool around will get the job done. (Word play is such fun.)
Now, you didn't think for a minute to write TOILET in your gratitude journal, did you? The next time you have to … be grateful, give thanks whenever you:
– answer a knock on your door and you AREN'T holding a bucket of your night waters about to find their way into your compost heap. (Urine is full of nitrogen, speeding up the decomposition of things like egg shells and last week's lentil loaf—the food experiment that DIDN'T make it into public domain.) I've also referred to IT (when asked by a guest if they could carry my bucket for me) as "Oh this? It's JUST a bucket of LALA," (liquid activator), adding "no problem a'tall, I've got it COVERED."
– wake up in the middle of the night with … not your dreaming self so much in mind, but nature taking center stage; however, FIRST you DON'T have to pull on your boots, layer up, find a flashlight, walk down 22 snowy and/or icy steps with winter winds howling at you as you stumble along a dark path (another 35 steps), slipping in the snow thinking, "SOMEDAY, I will have it easy like everyone else."
Everyone else. Isn't that always what keeps us from true gratitude? Others have it better—better health, more money, less worry, more vacation days … Well, I'd like to point out something you've probably missed when you're feeling less than queenly—your throne! The next time I'm forgetting gratefulness for all the little things that make my life easier, my reminder is now only a few steps away.