The adorable, always humorous MBA Jane is my way of honoring our Sisterhood Merit Badge program, now with 4,690 dues-paying members who have earned an amazing number of merit badges so far—6,500 total! Take it away, MBA Jane!!! MJ
Wondering who I am? I'm Merit Badge Awardee Jane (MBA Jane for short). In my former life …
This is a beginner level Stitching and Crafting Merit Badge that made my living room smile. Hello dolly!, did my living room need a makeover, stat. The problem? My furniture all had good bones (after all, it's been handed down for generations, mostly from the original Dream House), but the upholstery was …
a little outdated, worn out, old, and coming apart at the seams. Actually. Also, I'm pretty confident bright-neon-green-colored shag carpeting and pink, flowery-patterned couches were never meant to live in harmony. And don't even get me started on the wallpaper! Actually, please DO get me started on the wallpaper—just hand me a scraper and don't take no for an answer … seriously!
The carpet, though, I'll have to live with for a while. It'll be its day soon enough … evil laughter. Is there a hardwood floor refinishing badge? Cuz you better believe I will rock that one. I already have the money set aside for one of those riding sanding machine thingies. What do you mean, you aren't supposed to ride them?
But anyway, back to the furniture. The furniture's day had come. I bid a fond farewell to the pink stripes, remembering the days of tracing them with my pencil eraser while doing homework after school, or staring at them, following the pattern, while taking naps when I was sick as a kid. Boy, there are a lot of memories in one couch cushion, aren't there? Who knew?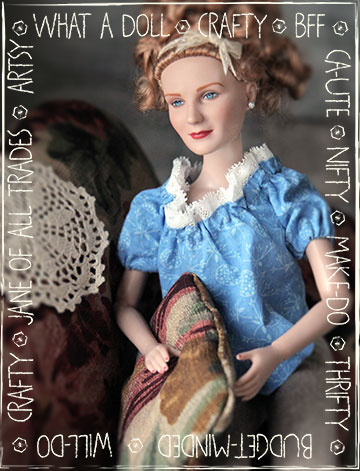 I started with gathering my supplies. Well, actually, I started with watching YouTube videos and reading articles about how to reupholster anything, and after that, I gathered my supplies.
What you'll need to have a living room makeover worthy of What Not to Wear (or What Not to Sit Upon, as it were):
-a staple gun (with staples). Handy hint from me to you. You're welcome in advance.
-yards and yards of a strong fabric (Going out on a limb here and suggesting anything that is not pink and geometric patterned. Your grandkids will thank me later. Just sayin'.)
-hot glue
-handy, dandy sewing machine with plenty of thread
-measuring tape
Snacks (this is a long badge, Madge. You're going to get hungry. I chose blueberry muffins with plenty of butter for their rib-sticking power. Great. Now I want ribs).
I decided to start with the easiest piece of furniture: the ottoman. Circles are my friends. I also have a smallish footstool, but it's going to have to wait its turn. So, there.
The day before I had cleaned all my old furniture. Don't want to cover over old coffee stains, after all. Also, I washed and dried all my new fabric—mostly because the cat had thought it was a new cat bed. Of course, the cat thinks everything that is on the floor anywhere in creation is her new cat bed. And don't even get me started on the dog. Is there a badge for dog and cat bed-making? Dog and cat beds stuffed with their own fur? That's not inhumane, that's recycling, girls.
Anyway, back to reupholstering. Just getting everything all together and turning the ottoman upside down got me a bit rumbly in the tumbly, as Pooh would say, so I took a muffin break. Naturally, muffins are a bit dry without something to wash them down, so then I needed a tea break. Good thing this badge has a 25-hour time commitment. I've used two and haven't even busted out the staple gun yet.
Continued tomorrow …