The adorable, always humorous MBA Jane is my way of honoring our Sisterhood Merit Badge program, now with 4,690 dues-paying members who have earned an amazing number of merit badges so far—6,500 total! Take it away, MBA Jane!!! MJ
Wondering who I am? I'm Merit Badge Awardee Jane (MBA Jane for short). In my former life …
Now that I've cultivated my green thumb with my ever-so-lovely herb garden, it was time to dry some herbs and package them as gifts for this beginner-level Self-Sufficiency Badge. There's nothing better than a DIY gift, I always say, and these were going to be fabulous.
My marjoram and thyme and basil were pretty much out of control. Those babies were over-running my kitchen windowsill. They were like weeds, only much more fragrant and tasty. They grew at a phenomenal rate, kinda like the plant in Little Shop of Horrors, only they hadn't eaten anyone (yet).
My parsley was a little peaked, I must confess, and my cilantro was hit and miss. I also had a couple of different kinds of oregano, a rosemary tree (that I may or may not have to decorate), and a gorgeous batch of velvety sage, not to mention some beautiful dill that had me craving pickles every time I walked by.
I'm telling you what, girls, if you want your home to smell like a Williams-Sonoma store or a Yankee Candle shop, then get thee to a seed store, posthaste! My kitchen always smells amazing, if I do say so myself (and I do).
I've been harvesting my herbs for a few weeks now, as they were ready, before they began to flower, and here's how I dry them out for my spice packets:
1. Tie a few bunches together loosely with pieces of twine. Or if you can't find twine, use rubber bands. Or if you can't find rubber bands, use Hello Kitty hair ties (ahem).
2. Place upside down in a brown paper bag. Roll the bag down and secure with a piece of tape. Or if you're out of tape, use twine. If you're out of twine … you get the idea.
3. Hang bag in a nice, coolish, airy-type spot. Like a pantry.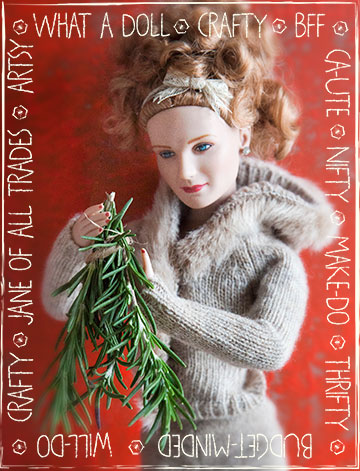 After a couple of weeks, you should be good to go. Open up those babies and take a whiff. Mmm hmm! Williams-Sonoma WISHES they could have such an authentic odor. I wrote to Yankee Candles as well, to request a tarragon-scented votive, but I haven't heard back yet. Stay tuned.
As far as putting together your own spice rubs and mixes goes, well, use your imagination. Or if you're like me and need a recipe, here are a couple I've found:
Tuscan Herb Spice Blend:
4 T basil and marjoram
2 T each: oregano, thyme, rosemary, and red pepper flakes (Growing my own peppers is next on my list. Until then, I buy them at the farmers' market.) 
Seasoning Salt
6 T sea salt
½ t each thyme and marjoram, finely diced
½ t garlic powder
2¼ t paprika (I like sweet and smoky)
½ t celery salt
¼ t dill
Keep it all big and loose, or grind it up in a food processor.
Those are just a couple of ideas, but really, it's all fair game when it comes to herbs and seasonings. Layer them in the smallest Mason jars you can find or in sweet little tins, and you have the cutest gifts around. Now to make some adorable labels and gift tags …