The adorable, always humorous MBA Jane is my way of honoring our Sisterhood Merit Badge program, now with 4,690 dues-paying members who have earned an amazing number of merit badges so far—6,500 total! Take it away, MBA Jane!!! MJ
Wondering who I am? I'm Merit Badge Awardee Jane (MBA Jane for short). In my former life …
For this week's Beginner Level Make It Easy/Build It Green Merit Badge, I'm going green in my decorating. At first, yes, I may or may not have thought that meant a green theme, as in the color green, as in sage, pea soup, lime, forest, emerald, etc. But I quickly wrapped my brain around what it really meant: responsible, earth friendly, no regrets, kind of green. I knew that!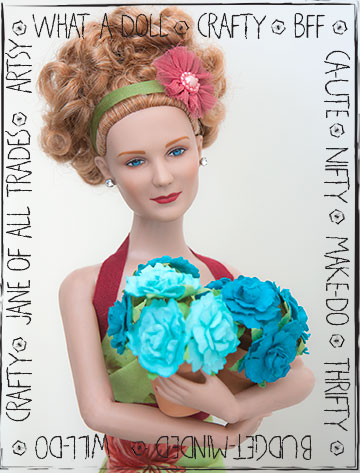 For a while, I was a little stumped, I admit. I stood, gazing at my tchotchkes, my knick-knacks made-who-knows-where, and my doodads, with a little lump in my throat. I eyed my dust-covered plastic and silk flower arrangements and my Beanie Baby collection with a certain fondness. I'd kept the tags on, but those babies just weren't coming through for me like I thought they were going to, back when I began feverously buying them. I was supposed to be a millionaire by now … too bad everyone else had the same plan, huh?
Now, being the recycling queen I am these days, I wasn't going to just toss them all in a landfill. I was gonna do this right. I boxed up the knickknacks and paddywhacks and sent them to Gramma Barbie in Florida, where I knew she could decorate up the retirement clubhouse with flare. Then I dusted the silk flowers and boxed them up, my mind already whirling with craft possibilities. Maybe Christmas ornaments? Or flower hair clips? Or some sort of rag rug? Or if my garden failed this spring, maybe I'd just plant these and hope no one noticed? I fingered the ends of my handlebar mustache evilly. (Haha! I kid! Peach fuzz only, I swear).
I boxed up the Beanie Babies for Midge's triplets and I resolved to not even care if they tore the tags off. After all, toys were meant to be played with, right?
My living room barren and empty, I stepped back and stared, critically. I totally felt like an interior decorator. My Feng Shui juju was really kicking in. Also, I couldn't get the color green out of my mind, so I decided to run with it.
First off, I cleaned my walls and baseboards and trim with a little homemade, non toxic, cleaner (vinegar and water). Zowie, were they ever dirty. That was better already, and I hadn't even started decoratin. Next, I framed some old black and white photographs of family and arranged them above the couch. Very nice! Then I decided to bring in my herb garden. Pots of oregano and basil and thyme now peek cheerily out from the sill by the windowseat. Who needs toxic aromatic candles when you have herbs year-round? Then I got out several hand-written recipes I had discovered slipped into the pages of an antique cookbook and arranged them on a tea tray. I preserved them for all time with a little homemade Mod Podge. Now I have the cutest spot to carry things back and forth from the kitchen. It looks lovely on my coffee table with my favorite magazines.
Lastly, I stitched up a couple new throw pillows for the loveseat (in GREEN, of course, oh, and PINK, and some vibrant blue and … ). Next up, I do believe: curtains.