The adorable, always humorous MBA Jane is my way of honoring our Sisterhood Merit Badge program, now with 4,819 dues-paying members who have earned an amazing number of merit badges so far—6,550 total! Take it away, MBA Jane!!! MJ
Wondering who I am? I'm Merit Badge Awardee Jane (MBA Jane for short). In my former life …
For this week's Stitching and Crafting/Safe Toys Merit Badge, my memories harkened back to the good old days of playing hacky sack at the corner of Childhood and Games. Not really; it was the corner of Maple and Main, but you get my poetic license, right?
These double-jointed knees of mine can lob some bean bags through space like you wouldn't believe. I was the hacky sack champion of '85-'89, till Skipper quit the Double Dutch Team and really dedicated herself to being my arch nemesis. Grrr … Don't even get me started on our Macramé War from '92-'93. Epic.
Anyway, having fun with bean bags is no strange idea for me, so I was all about this badge! I got out all my fabric pieces (you know, those odd-shaped edges you weren't sure what to do with but didn't want to throw away?) and some iron-on transfers. First step was locating the iron and then promptly blowing all the dust off of it. Ahem. Never let it be said I don't know how to iron, precisely; I prefer to think of it as saving energy and occasionally rocking the "lived-in" look. I call it lived-in, you call it wrinkled. Potato, potAHto. Let's not split hairs.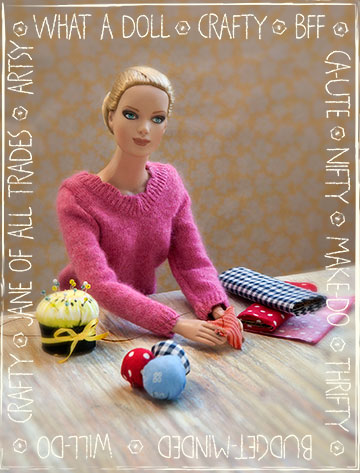 Of course, you can skip the embroidering-something-cute part, and go right to the stitching–of-the-bean-bag part if you like.
I embroidered a couple, and left a few more blank so as not to compete with the adorable patterned fabric I picked out. Glamping fabric? Be still my heart!
The fun thing about making bean bags, besides the fabric and design, is the shape! You can go square, circular, oval, triangle … I accidently made an octagon, but that was sorta not on purpose. No one needs to know that though! Totally looks deliberate. If you close one eye and use your imagination.
Think of making a tiny pillow when you sew. Stitch three sides, right sides together, turn out, stuff with your choice of stuffing (I used dried lavender and rice, but you could use sand or feathers or pillow stuffing or beans! Dried, naturally. Not refried. Messy). Then hand-sew the last seam together, and voila! Safe and fun toys for the kiddos in your life.
I delivered mine to the local women's shelter, amidst oohs and ahhs from the delighted little youngsters there. I even stayed for a round of hacky sack.
Oh yeah.
This girl's still got it! Just like riding a bike, it all came back. Of course, I was playing with 5-year-olds, but still. They were coordinated 5-year-olds, with wicked reflexes. Skipper is soo going down …