Few things are as all-American as the old-fashioned family road trip. So here's my friendly nudge: five places to take your little ones before they "un-little."
Don't have kids or grandkids? Take your inner child!
Yellowstone National Park
See the park that started it all—Yellowstone, America's first national park.
Picnic.
Camp.
Have the kids earn a merit badge.
Head to the Grizzly Discovery Center. Watch Old Faithful erupt. It's not only old, it's faithful. (Always on time. Nothing to do with a wandering eye.)
My parents took the-whole-fam-damily" to Yellowstone when I was 5 years old. All seven of us slept in an old army tent. On the second night, a grizzly bear fell on us. (We decided he was walking home in the dark after having tied one on at the local tavern.) We have the gash his claw made in our tent (mended now) to prove it. (I recommend a travel trailer or a night in a park guest lodge.)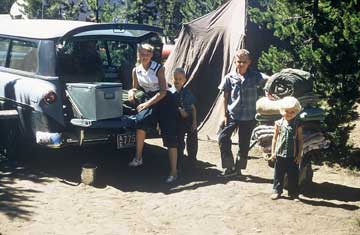 Redwood National Park
If your child has never seen a car drive through the center of a tree, she just hasn't lived. BOTH of you feel tiny next to humbling, 250-foot-tall, 3,000-year-old giant sequoias. Use this trip as an early opportunity to talk conservation. I finally made it to that tree several years ago. Worth every mile.
Washington, D.C.
Remember how exciting it was to catch the news as a child and hear about sessions of Congress and meetings between the Joint Chiefs of Staff?
Uh … me either.
Make politics more tangible for your kids. Stroll the streets of D.C., see the White House, touch the awe-inspiring Lincoln Memorial (just like on the penny!), and hear evening taps at Arlington National Cemetery to make it all a little more real.
Ellis Island
Forty percent of us can trace our ancestors back to Ellis Island. I like those odds. The gateway for over 17 million immigrants, Ellis Island may hold the key to your ancestor's ship and traveling companions. Even if you go home empty-handed, you'll inspire great conversations later on about family history, past and not so past. Fair warning: you may have to come clean about great-grandpa Joe's underground moonshine operation.
Colorado
"Patriotic" may be a term often reserved for East Coast destinations, but Colorado's geography is what inspired the song "America the Beautiful."
Go bird-watching, hiking, mountain-climbing, ice fishing, skiing, or snowshoeing.
The Estes Valley is a stunning locale for taking in wildlife and aspen beds along the Big Thompson River.