Welcome New Sisters! (click for current roster)
Merit Badge Awardees (click for latest awards)
My featured Merit Badge Awardee of the Week is … SuZan Brown!
SuZan Brown (imascholar2, #4394) has received a certificate of achievement in Each Other for earning an Intermediate Level Entrepreneurial Spirit Merit Badge.
"I signed up to become a Stampin' Up! demonstrator. I paid $99 for the beginning kit and then set a goal of $300.00 in sales each month. I also began a blog at agivingart.blogspot.com to showcase my creations and to offer tutorials to my readers. I named my demonstrator ship "A Giving Art" because that is what making cards, scrapbook pages and 3D projects/gifts is all about. I only dreamed about it for 2 days before making my dream a reality.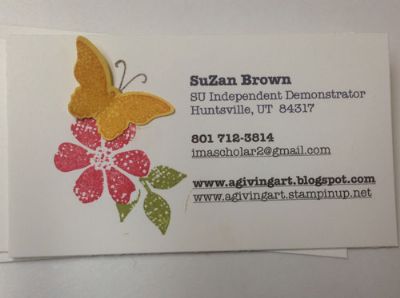 I set up my business. I am keeping accurate and detailed records. I created my business cards. They turned out GREAT! I am in LOVE with my SPRING business cards. This has been a HUGE blessing in my life. It has reawakened my creativity."
Congratulations SuZan! Farmgirl hugs and blessings on your business.