Welcome New Sisters! (click for current roster)
Merit Badge Awardees (click for latest awards)
My featured Merit Badge Awardee of the Week is … Sherrilyn Askew!
Sherrilyn Askew (sherri, #1350) has received a certificate of achievement in Garden Gate for earning a Beginner Level Backyard Farmer Merit Badge!
"We started by digging out the old barn from under the blackberry bushes. We then had to rebuild the majority of it. In one end we built a chicken coop. This past June we purchased a variety of baby chicks and started our hen house. We now get over a dozen eggs a day and supply our family and neighbors with fresh eggs. We use a local feed called "Scratch & Peck". It has no GMO's and is a small local company. The chickens think it is fantastic!!!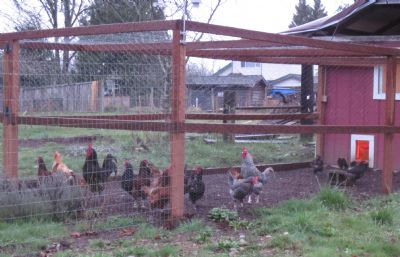 We wound up with 5 roosters and 19 hens. So far we have eaten 3 of the roosters. The eggs are fabulous!!! I had forgotten how good fresh farm eggs tasted and how beautiful they looked. Such large golden yolks and firm whites. I want to try my hand at pickling eggs at some point."
Way to go Sherrilyn! Good choice on Scratch & Peck for your feed. That's what we feed our chickens here at MaryJanesFarm.