Welcome New Sisters! (click for current roster)
Merit Badge Awardees (click for latest awards)
My featured Merit Badge Awardee of the Week is … CJ Armstrong!
CJ Armstrong (ceejay48, #665) has received a certificate of achievement in Outpost for earning an Expert Level Glamping Merit Badge!
"My daughter and I call ourselves the "4871 Glamping Farmgirls" and have taken our glamping setup on the road more than once. Our locations in 2012 were:
-Black Canyon City, Arizona, in March
-Priest Gulch, Colorado, in July
-Flagstaff, Arizona, in September
Each time, we set up a 10×10 EZ-UP canopy and glamped it with all kinds of pretties. We also set up a nice tent with a screened porch and glamped it as well, including lace all along the edge of the rain fly, around the edge of the porch opening, etc.
Our most recent adventure was our "Backyard Glamper Party & Sleepover" at my daughter's house. We invited Farmgirls over for a tea party, potluck supper, s'mores over the campfire, craft projects, sleepover in glamped-up tents, Saturday morning brunch, and all kinds of fun.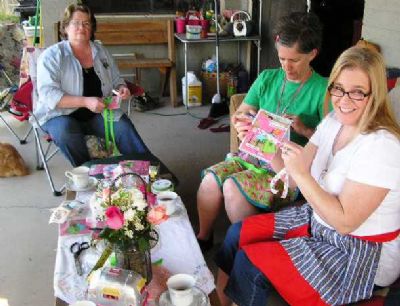 Our repurpose projects include the use of sheets as curtains, lace trim from bedskirts to trim the tent, pillow shams to make new covers for decorator pillows using inflatable camp pillows, aprons as valances and table skirts, all kinds of linens for all kinds of purposes. That is to name just a few.
At our Backyard Party, all the guests made memento photo albums using MaryJane's "Glamping" oilcloth, ribbons, buttons, and other embellishments. We also made card stock holders for recipes that we collected from each other. The holders were printed with bits and pieces of the different "Glamping" fabric, etc. Both projects were easy, fun, and appreciated by the guests.
The OUTPOST section of the Farmgirl Connection has "photo journal" threads for ALL of our adventures with comments about what we did and the fun we had.
The most recent adventure is titled "Backyard Glamper Party … " We had the most fun; to meet our farmgirl friends and meet new friends was priceless! Looking forward to the next "4871 Glamping Farmgirls" adventure."