Earth Day falls every year on April 22nd and aims to celebrate an awareness of our beautiful planet. We have been officially celebrating this holiday since 1970. People often celebrate by planting flowers, herbs, gardens, and trees, or getting together with like-minded people to tackle major community clean-up endeavors.
My mom most certainly inherited her green thumb and love for the earth from her parents, who were dedicated followers of Robert Rodale's Organic Gardening philosophy and life-long subscribers to his magazine. This photo was taken of my grandfather in their vast green garden well before Earth Day was officially a national holiday.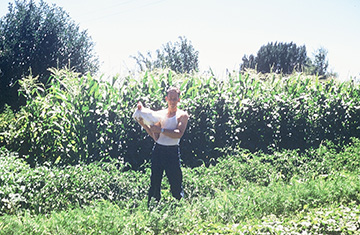 When not at work in the can factory where he worked his entire life, he spent endless hours with his hands in the soil, growing most of the food his family of seven would consume in a year.
When I woud visit my grandfather, he made sure his garden was a fun place for kids to play, hang-out, and help. There were treasure-hunt coins buried in the sandbox, cucumbers growing inside pop bottles, huge hubbard squash hanging in the trees held there by supportive hammocks and endless games of croquet. But my favorite was being ushered into the garden well after our bedtime to witness the unfolding of his moonflowers that open only when day is done.
In the beginning, pinwheels.
And then, moonflowers.