Welcome New Sisters! (click for current roster)
Merit Badge Awardees (click for latest awards)
For the second week in a row, my featured Merit Badge Awardee of the Week is … Mary Fitzpatrick!
"There is a local store that sells cultures and other cheese-making supplies. She also sells cultures to make sour cream, yogurt, and Keifer grains, as well as teaches classes on cheese-making. I have always known that once I moved to our new hobby farm and I would have access to raw milk, that I would want to learn how to make all of the above. Now that I am recently retired and settled on our hobby farm … I'm excited to learn all I can and make my own. I first started with yogurt. My first attempt was a disaster; I threw it out and tried again. My second attempt was awesome! I first started by warming the milk.
Slowly bringing the temperature up … checking the temp, and once it reached 185 degrees, we turned off the heat. Then we let the milk cool quickly by placing the warm milk in an ice-water bath and drop the temp quickly. Once the temperature reaches 85 degrees, add in the cultures and place in a big glass jar. I set the jar in my dehydrator and set the temperature to 75 degrees for 12 hours. It tasted wonderful. I was very surprised and pleased with the texture and taste. Better than store-bought. I hope to never have to buy yogurt again. From here on, I am making our own.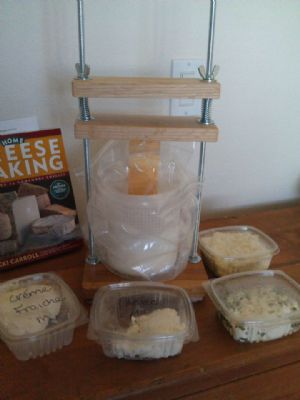 After learning how to make yogurt, I grabbed some of my Farmgirl Sisterhood Henhouse members and we signed up to take our first cheese-making class.Our first class consisted of teaching us the basics of soft cheeses. I was so nervous, but trusted the process. We used raw cow's milk, which the instructor said produces the best cheese. We learned the importance of temperature, timing, and adding the cultures and cheesemaking salts. We also learned how to flavor the cheeses using a variety of spices or herbs. I was hooked! Our soft cheeses were wonderful. In the first session, we made Fromagina (Cream Cheese), Creme Fraiche, Queso Blanca, and Queso Fresco. The cream cheese was so spreadable and yummy. I loved the process and the product. Next up, hard cheese.
I rounded up some other Henhouse members and signed up for our first Farmhouse Cheddar-cheese-making workshop. It took 6 hours. But we all left with our cheese presses full of Cheddar cheese to take home to babysit before aging it. I am excited about the possibility of making other cheeses, like Gouda, Swiss, and other gourmet cheeses. I was amazed how easy it is to make cheese … anyone can do it really. It's best to take a class, or if you get a great recipe, follow step by step. Once you learn, there is no stopping you. I use raw cow's milk for my cheese and it has never failed. I intend to make 2 rounds a month now. It's fun to add things to flavor them, like garlic to make garlic Cheddar, or peppers or basil."