For my 60th b-day, my daughter, Megan, and I traveled with Ace to Kansas to join up with a Farmgirls on the Loose event. I'm still sorting through all the photos we took and promise to share every detail of our fabulous time very soon.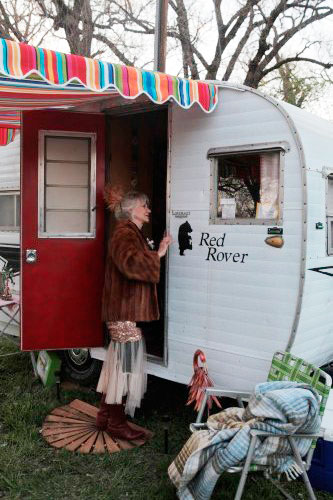 Upon my arrival back home, there were plenty of b-day surprises awaiting my arrival.
On the doorstep stood a pair of cowgirl boots just busting at the seams with succulent succulents and the note, "We thought you'd get a kick out of this little gift we planted up for you!" Your Store Girls, Patsy, Sue & Jordie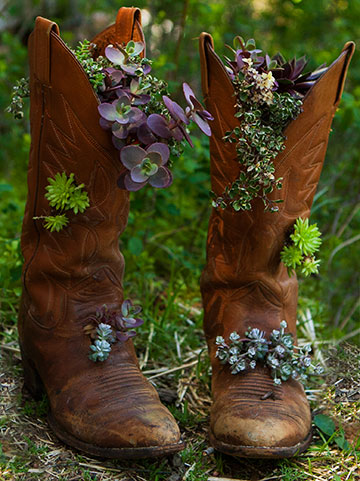 We recently doubled the space of our store, so I know they've been super busy, but even so, they still found the time to send some love my way.
I love and appreciate YOU so much, Patsy, Sue, and Jordie!
If you haven't made it to our store yet in Coeur d'Alene, Idaho, to meet these three women, there's a treat "in store" for you. They've turned being in the business of retail into an absolute joy.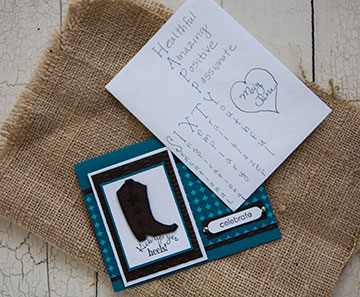 And the CARDS!!!! Lots and lots of wondrous cards along with tea and hot chocolate and seed packets.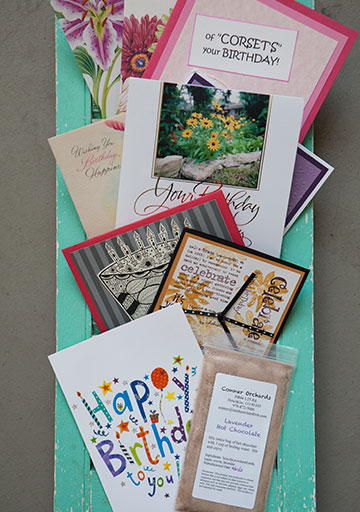 And CJ Armstrong's hubby made a hand-turned wine stop for me. Awesome craftsmanship! And don't I love it that CJ makes cards using the labels from our chocolate bars?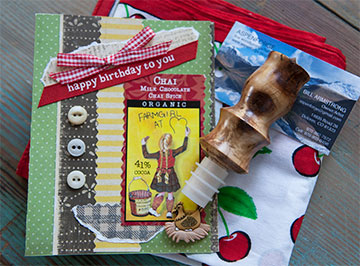 And hubby bubby gave me new, precious adornments. And my dear friend Bobbie (whose b-day is this week also) remembered me. My brothers called to say they love me … still. No matter what. (I've given them a few whats over the years.) My grandgirl, Mia Marie, showed up with lunch and a smoothie. We played several games of hopscotch, drawing the squares right on my floor using chalk. (I still haven't erased it.) My SIL brought me a bouquet of lillies and a hug. My employees brought chocolate cakes, brownies, and cupcakes. (I ate WAY too much chocolate.)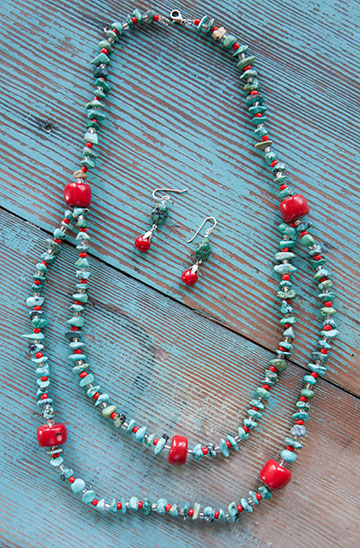 And my daughter is modeling a handmade poncho I received from Jan Doran of Michigan. I LOVE it. How thoughtful! Meg made me promise I'd lend it to her on occasion. "Maybe," I said. It was at this point my husband piped up to say, "Wow, you're making out like a bandit." Guys. They say the darndest things.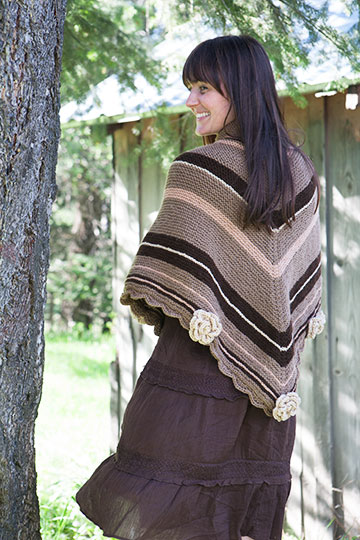 And as if that wasn't enough, I received another gift of clothing from my favorite apparel designer, Robin of Magnolia Pearl. It's a stunning piece. Stunning.  Stay tuned for a magazine feature on Robin and husband John Gray.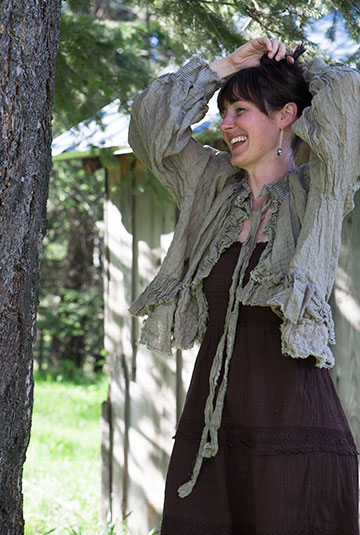 Sooooooooooooooooooo much love.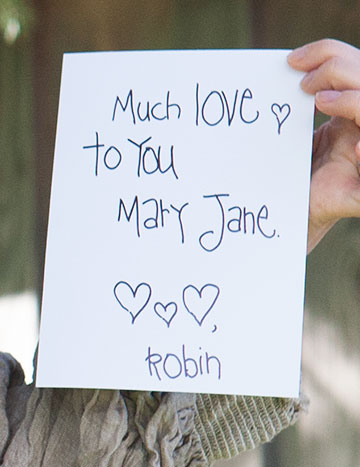 And more cards!!!! And so many good wishes from our chatroom. Thank you Janet, Deborah, Diana, Teri, Mary Beth, Annika, Mel, Nini, Denise, Dawn, Nicole, Darlene, Justine, Margo, Shirley Jean, Tamara, Kelly, Jenne, Katie, Kelly, and Kristina. It meant a lot to me that you remembered!
Am I feeling it? I sure am. Call me blessed. Blissed. What an awesome 60th!