Welcome New Sisters! (click for current roster)
Merit Badge Awardees (click for latest awards)
My featured Merit Badge Awardee of the Week is … Nicole Christensen!
Nicole Christensen (texdane, #1155) has received a certificate of achievement in Stitching & Crafting for earning an Expert Level Knitting Merit Badge!
"Calling me a 'knitting addict' doesn't quite cut it. It's become an extension of who I am. My friend called me a 'Master Knitter' the other day when she introduced me to someone new. I was so complimented. Since I last applied for the Intermediate Badge in knitting, I have knitted up a storm! In addition to knitting projects along with my students in my knitting classes that I teach, I knitted a ruffled shawl, several drop-stitch lacy scarves, and made a size 4T jumper for my niece Kristina in Denmark. Her mom begged me to make it, having fallen in love with some beautiful cotton/wool blend hand-dyed sock yarn. We laugh that she is the only Danish person who can't knit! It was very fine yarn, on small needles in the round, with an intricate pattern on the chest. That dress took a year and at least 50+ hours) to complete, but thankfully, she still needs to grow into it a bit!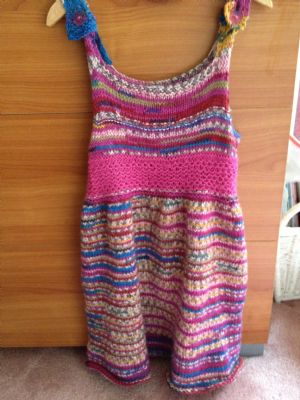 I've taught several classes each semester, passing on everything I can about the art of knitting. This past Saturday, I was asked if I would have a booth at our town's Earth Day celebration.It was flattering to be sponsored, and I had a blast! I bought all-cotton yarn and designed a cute bookmark that could be knitted and taken as a souvenir. I knitted at that booth for eight hours, teaching countless kids, teens, and adults knitting!
It was a wonderful day. I was thankful to be part of such a great community experience, as well as saw several kids light up at the idea that they could knit! I ended up giving out 100 business cards, too!"