The adorable, always humorous MBA Jane is my way of honoring our Sisterhood Merit Badge program, now with 5,344 dues-paying members who have earned an amazing number of merit badges so far—7,177 total! Take it away, MBA Jane!!! MJ
Wondering who I am? I'm Merit Badge Awardee Jane (MBA Jane for short). In my former life …
For this week's Each Other/Know Your Roots Merit Badge, another trip to see my Grandma Barbie was in order. She was out of my world-famous strawberry jam and due for a fresh pedicure anyway, so I packed up my car and off I went to Florida! This merit badge requires some family history, some digging, some reminiscing, and a sparkly topcoat (toluene-, formaldehyde-, and DBP-free, naturally!)
Grandma was in a Hot Yoga class when I arrived at the retirement community and I had to kill some time with nice old Mr. Joe (his friends call him G.I.) out front. We swung a bit on the porch swing, my flipflops and his combat boots dangling in the breeze. He's a sweet gentleman, albeit a bit of a flirt.
Anyway, Grandma came out looking adorably pink-cheeked and ready for some lemonade (I finally got her weaned off of sweet tea!) and we caught up on recent events. I told her about my newest badges and she told me about the retirement home's latest outing to the zoo, where they nearly lost Mr. Joe in the tiger cage (he was going all macho man for the sake of a certain attractive brunette. I won't mention names, but it rhymes with Zonder Zoman). Anyway, the lemonade had us craving something sweet, so we said goodbye to G.I. and headed inside the air-conditioned condo, where we whipped up a batch of organic chocolate-chip cookies.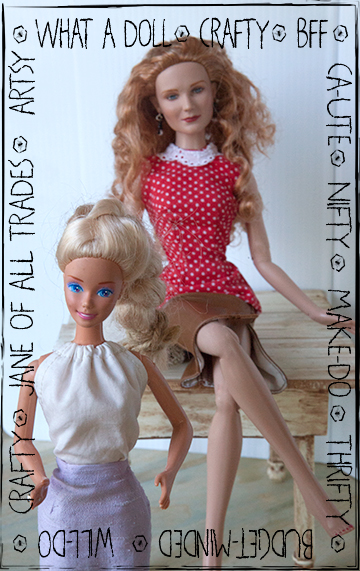 This was actually the perfect setting for my badge. Nothing brings out conversation and memories and bonding like tiny teardrop-shaped chocolate! So says I. I may just embroider that on a pillow, in fact, or pencil it on a sign for my living room. Grandma has always been a talker (where do you think I get it from?!) and she was happy to oblige and answer questions, interview style …
Me: What year were you born, Grandma?
Grandma: I was born at the American International Toy Faire in New York, in March 1959! I was a sassy teen model at the time of my birth—no baby or toddler years for me!
Me: And your full name, for those not lucky enough to call you Grandma?
Grandma: Barbara Millicent Roberts. But everyone calls me Barbie.
Me: What's something not everyone knows about you?
Grandma: Well, let's see. I'm a real animal lover, and in my time, I've owned over 40 pets!
Me: I think there's a show for you, Grandma. It's called "Animal Hoarders." Do we need an intervention?
Grandma: Don't sass me, young lady.
Me: Yes, ma'am.
Grandma: Also, I've had more jobs and careers than you can shake a stick at! Let's see, I've been a veterinarian, an astronaut, a waitress, a pilot, you name it! Let's just say, I'm a Jill of All Trades.
Me: And master of none?
Grandma: I'm a master of chocolate-chip cookie eating!
Me: Touché, Grams, touché. Anything else you'd like your devoted public to know about you?
Grandma: My toes need attention.
Me: Um, okay. Holy toenail fungus! Haha, just kidding. Pass me another cookie, would you?
Grandma: While you're munching and painting, let me tell you about the first time I ever saw Ken …