The adorable, always humorous MBA Jane is my way of honoring our Sisterhood Merit Badge program, now with 5,205 dues-paying members who have earned an amazing number of merit badges so far—7,043 total! Take it away, MBA Jane!!! MJ
Wondering who I am? I'm Merit Badge Awardee Jane (MBA Jane for short). In my former life …
For this week's Outpost/Glamping Merit Badge, I steeled myself for an overnight with my favorite triplets. Midge's kiddos are somewhere between the ages of 6 and 12, respectively. Hey, I'm a single gal: I'm not great with guessing children's ages! I just know they are old enough to buckle their own seat belts, but not old enough to get a learner's permit.
Anyway …
Midge needed an overnight sitter, so Yours Truly volunteered. Well, volunteer is a strong word … more like my deer-in-the-headlights look must have masqueraded as a pick-me look. I'd better work on that. But all kidding aside, I was psyched, amped up, phat, chillaxed, you know, to be the cool auntie for a night, plus it was the perfect opportunity to earn another badge! Which one, you might ask?
The ever-popular Glamping one.
Oh. Yes. Indeedy.
Though I'd heard of glamping, collected a Pinterest wall of glamping ideas, have friends who have done it, and daydreamed of all it entailed, I still hadn't left my house.
My comfy, comfy house.
With that comfy, comfy bathroom.
Yes, I'm a wimp. A pathetic excuse for a farmgirl. I've said it.
But no more! I was going glamping. Even if it was just in the backyard.
Close to that comfy, comfy bathroom.
Don't fret, chickadees, I don't plan to cheat.
Unless completely necessary.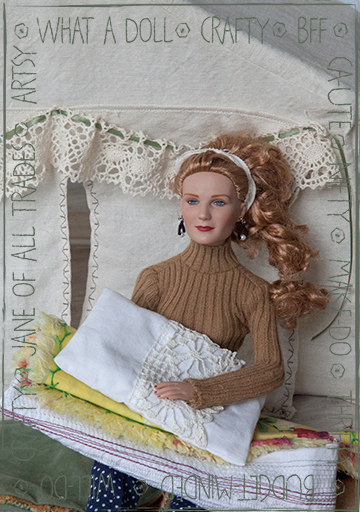 Pile of quilts in hand (because, let's face it, sleeping bags are so dull and so are broken zippers), the triplets and I spent the twilight hours readying our campsite. I had a tent somewhere in the depths of the garage, but we were really hankering for a REAL night under the stars, so with their tree-climbing skills, we managed to drape king sized sheets and erect our own bohemian, gypsy style, open tent. Even with just the sheets, our glamping was coming along swimmingly, if I do say so myself! My yard already looked pin-able, and we hadn't even finished with the details yet.
Next to come were pillows and blankets and a hammock, and when combined with the ever-so-lovely garden light I made a while back, we were really in style. My fire pit was readied with kindling and one of the triplets sharpened sticks for s'mores and other roasted delights. (While I looked away in fear. Fear of a child with a knife? More like fear of Midge finding out. What I claim I didn't know can't hurt me. Babysitting 101.) Evening was just settling in when we started packing out dinner prep, dessert items, breakfast foods, snacks, and elevensies. Hey, glamping is at least 50% about the food!
My excitement was building and our adventure had only just begun …