To set the stage for how it felt to walk away from my baby for the first time, here's a 32-second Subaru TV ad that says it all. (I love this commercial.)
And here's my "baby" in her new home-away-from-home for the next week or so.
I know. It doesn't look exactly pastoral. In fact, it looks a little bit like jail, BUT her new digs have 24-hour AC (this is a biggie—it's been over 100 degrees here), no flies (this is also a biggie), and lots of eager attendants vying for the privilege to attend to her every need, including taking her for short walks. (She had them at moo—lots of ooohs and aaahs.) And I can visit. Where is she and why? She's at the Washington State University Veterinary School until HER baby is born. (I'm hoping for a girl.) Etta Jane is a miniature Jersey and it's her first pregnancy and she's small and I'm a worrywart. Essentially, I've checked her into a bovine birthing center.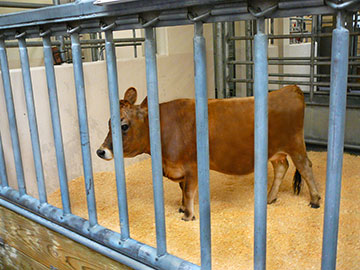 As I was leaving, we noticed the footprint of another "patient" who'd arrived earlier. Our little Etta Jane could fit all four of her hooves into one of these.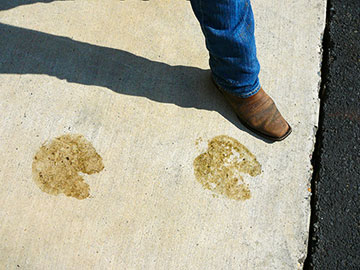 Don't you just love her adorable raccoon eyes? I think tomorrow, I'll frame this pic of us and hang it in her room. They've promised they'll call me the minute she goes into labor. I miss her. But I'm relieved to know that if there are any complications, she's in good hands.