Welcome New Sisters! (click for current roster)
Merit Badge Awardees (click for latest awards)
My featured Merit Badge Awardee of the Week is … Lynne Parmenter!!!
Lynne Parmenter (Sister #5089) has received a certificate of achievement in Garden Gate for earning an Expert Level Herbs Merit Badge!
"This year, I have planted six types of herbs: lavender, Italian basil, pineapple sage, oregano, parsley, and thyme. In the past years, I have grown herbs and always dry them to use during winter months and will continue to do so. I like to use them fresh during the summer and fall months. My family and friends have always taken some home with them, both fresh and dry.
I have grown mint and chocolate mint. With these herbs, I use them in drinks during summer and fall seasons, sharing with family and friends. Once dried, I shared them and we use them in many recipes. The chocolate mint was delicious in the crock-pot cakes when we were home and in the Dutch-oven cakes we made camping. This year is the first year growing lavender. I will dry it and include it in the grapevine wreaths I make in fall—which I give away—and I also want to make some sachets for fresh scents.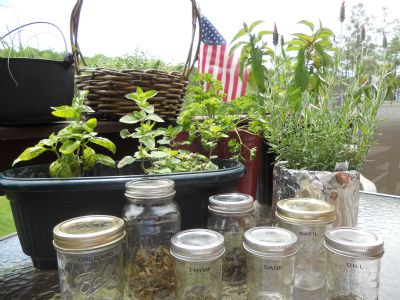 I have always done well growing my herbs. This year, I had to grow them in containers on my deck, but in the past, I have had them grow over their beds and when my husband mowed the lawn, you could smell their fresh scents. I have already used the herbs that I have grown this year. This is the first year for pineapple sage, and I enjoy using it when I prepare and cook pork. So delicious!!! I look forward to continue growing and using herbs. It certainly is enjoyable and relaxing."