Welcome New Sisters! (click for current roster)
Merit Badge Awardees (click for latest awards)
My featured Merit Badge Awardee of the Week is … Nicole Christensen!!!
Nicole Christensen (Texdane, #1155) has received a certificate of achievement in Garden Gate for earning a Beginner, Intermediate, and Expert Level Heirlooms Forever Merit Badge!
"For my gardening season 2012, several friends gave me heirloom plants, including different varieties of tomatoes, herbs, and flowers. I read the book Gardening with Heirloom Seeds by Lynn Coulter, and was introduced to several heirloom seed catalogs by my dad's wife, Karen, and my friend, Valerie. I marveled how beautiful the heirloom plants were growing in my garden, and wondered how many people before me had the same beautiful plants. (Prior to these heirloom varieties, my seeds have been organic in the veggie bed).
Seed saving always seemed like it would be difficult before, but I was very inspired by some of the beautiful heirloom varieties of plants I was given by some good friends, including some farm sisters! At the end of the season 2012, I learned how to save seeds, using seedsavers.org as a guide.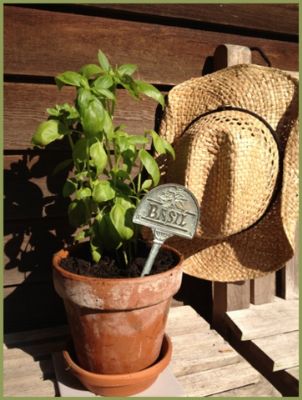 I saved several heirloom seed varieties, including lettuce and lemon basil, as well as some flower seeds. The most difficult seed to save was lettuce, as the seeds are so small and delicate. I let my lettuce pot go to seed before the weather got too cold, and hung the flowers to dry over a paper bag. I then extracted the little seeds and let them dry before storing. I also printed up adorable homemade seed packets from a pdf from a magazine, which served as cute "tuck ins" for gifts at Christmas and Easter.
Saving seeds made me so proud. To see those little seedlings pop up in the spring after a long winter was especially thrilling, knowing that my efforts to save them worked! When my basil plant died because I forgot to water it more often sitting next to the heater, I was able to grow it again from the seed, and my lettuce seeds planted in this season did better than the ones I bought from a store! It has also been special to hear friends say their flowers from seeds I gave them are blooming and they are thinking of me!
I really loved the different varieties of plants and herbs, some very different from your "day-to-day" varieties. For instance, I love the different breeds of basil, such as lemon basil, and have played with recipes and in my cooking, trying the varieties and marveling in the different flavors. I couldn't wait to plan my garden for 2013, and was overjoyed to get new heirloom catalogs in the mail starting in December.
For this year's (2013) garden, I planted heirloom seeds in the vegetable bed, seeds I ordered in February from the mail-order catalog, Baker Creek Seeds. It was exciting to get that envelope in the mail in the middle of winter, with the promise of summer warmth and digging in the earth again, despite snow and cold temperatures.
I started my seeds indoors, and I used all recycled containers to start my seeds in (containers like egg cartons and yogurt cartons). This inspired my daughter's Girl Scout troop. I hosted the troop at my house, showing the girls how almost any container can be reused to start seeds in, explaining what heirloom seeds are, why it is important to garden and do so organically. This presentation inspired the troop to have a booth at Earth Day, and the girls made recycled seed starters. One friend of mine that attended the troop meeting at my house had never gardened before, and was so inspired she now has a big, beautiful veggie garden!
In late spring, when the weather turned nice and warm, my family and I visited Comstock-Ferre, New England's oldest heirloom seed company. I picked up a few more seed packets. (Even the outside of the packets are beautiful; I could see them used in decoupage!) I shared my experience with my Farmgirl Sisterhood chapter friends at one of our get-togethers."