Welcome New Sisters! (click for current roster)
Merit Badge Awardees (click for latest awards)
My featured Merit Badge Awardee of the Week is … Jennifer Knox!!!
Jennifer Knox (#4359) has received a certificate of achievement in Each Other for earning a Beginner Level Farmgirl Grammar Merit Badge!
"Two weeks ago, I dusted off my high school dictionary and looked up two weeks worth of new words. At first, I was bemused by this Sisyphean task, but soon I no longer yawped at the esse of these new words. I logged my new word friends into a notebook and referred to them during the two weeks.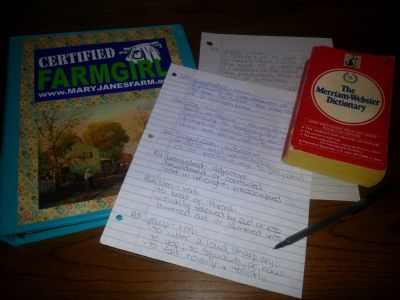 Being a middle school Language Arts teacher, it was interesting to look up words as if given my own homework assignment. I enjoyed the small task and look forward to the coaptation of more words into my notebook."