The adorable, always humorous MBA Jane is my way of honoring our Sisterhood Merit Badge program, now with 5,518 dues-paying members who have earned an amazing number of merit badges so far—7,301 total! Take it away, MBA Jane!!! MJ
Wondering who I am? I'm Merit Badge Awardee Jane (MBA Jane for short). In my former life …
For this week's Garden Gate/Herbs Merit Badge, Intermediate Level, I continued onward with my obsession desire to make the perfect homemade tea. Since it was going to be a while before my cardamom was ready to harvest, I decided to try another (and faster) indulgence:
Mint!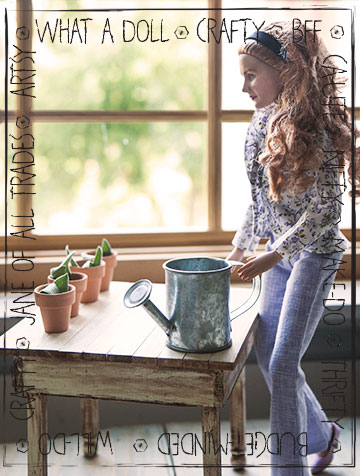 I love a good cuppa peppermint or spearmint tea, especially on a chilly winter's night, or iced on a busy summer's day. And it's not as heavy as my beloved chai, a fact my jeans will testify to.
Unbeknownst to me, there are more than just good ol', tried-and-true spearmint and peppermint. Have you ever heard of … drum roll, please …
chocolate mint? (Holy combination, Batman.)
ginger mint? (I feel another chai craving coming on.)
pineapple mint? (Island living, anyone?)
orange mint? (They should make gum out of this flavor.)
lemon mint? (Pucker up!)
apple mint? (A divine iced tea combo if I ever heard one.)
catnip? (It's a mint. Who knew?)
I cleaned out my window boxes—hello, spiders … feel free to relocate, fellas—and got out my potting gloves. Mint, it turns out, can be a bit invasive, which is right up my gardening alley. This means it will be hard for me to ruin and/or totally kill, which gave me a confidence boost since I'm still a beginner when it comes to the Landscaping Arts. I managed to kill a cactus my Gramma Barbie brought me from her annual week at a Texas dudette ranch, lickety-split and without hardly trying. Well, at least the pot came in handy for my cardamom seedlings (sorry, Gramma.).
Well, my mint not only survived, but thrived. I now have more mint than I can shake a stick at (though why I would want to remains to be seen … maybe I've been delving into the catnip accidentally). Besides my own lovely, home-brewed tea, I've been using it for other things:
freezing the leaves in ice cubes (flavored water, anyone?)
floating some sprigs in my bath
homemade mint juleps and Cuban mojitos
preserved in vinegars
stuffed in sachets for musty drawers
potpourri
It's my new favorite go-to flavor and plant. And oh, popping a fresh leaf after an especially garlicy meal is a surefire way to get your own Mr. Wonderful to pucker up …
Just sayin.'