The adorable, always humorous MBA Jane is my way of honoring our Sisterhood Merit Badge program, now with 5,518 dues-paying members who have earned an amazing number of merit badges so far—7,301 total! Take it away, MBA Jane!!! MJ
Wondering who I am? I'm Merit Badge Awardee Jane (MBA Jane for short). In my former life …
For this week's Make It Easy/Carp-HEN-try Merit Badge, I decided to tackle a project I'd been wistfully daydreaming about for weeks. Now that the weather has cooled down a bit, I am spending even more time outside (everything from eating to reading to painting my nails to gossiping is done out of doors these days) and I've been eyeballing my old carport.
It's a sad little carport. A bit tumble down, a bit unloved, it houses exactly zero cars and is nothing like a port. It's more like a ramshackle weed patch, with a cover. But in my head—ah, in my head—it's a lovely little outdoor patio.
Picture this: a level ground, grapes or ivy growing up over the trellis, maybe some large stepping stones, and a cute-as-a-button, bistro-style table and chairs. Maybe an old hutch as well, filled with outdoor enamelware and pitchers for iced tea. Some hanging lanterns, perhaps, or some twinkly Christmas lights? A mister for those hot summer evenings?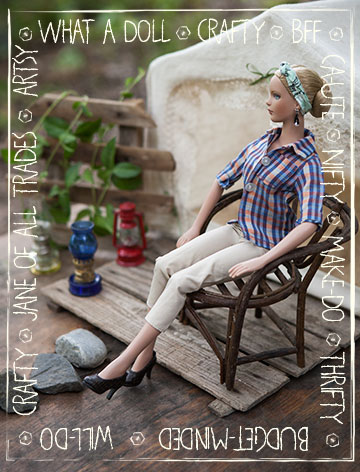 Am I getting ahead of myself?
Probably. That IS my M.O.
But it's good to have imagination. A woman with a plan. So says I. So let it be written, so let it be done!
Except, of course, that it's going to take a little more elbow grease than that. Well, there's a minimum of 20 hours required for Level Two of this badge, and I have a feeling I'll be needing all 20. And the countdown begins … 20, 19, 18 …
I rolled up my sleeves, tied back my hair, and got busy with the grunt work (as Gramma Barbie would call it). Did I mention my weed patch? Yeah.
*blushing in embarrassment*
Can I sell these things to science or something? I mean, they are seriously hardy plants. Come rain or snow, frost or drought, famine or plague, being trampled by chickens or used to park the trash cans, these babies are thriving.
Wish I could say the same for my strawberries (at least the birds enjoyed them).
But anyway, this badge is supposed to be about building something, so forget the weed patch. I got it done, and we'll just leave it at that.
…15 … 14 … 13 …
Next, I fixed the roof. Now, don't get too impressed by "I fixed the roof" I mean "I fixed some major sloping and slanting, one small hole, and reinforced a beam that someone—who shall remain nameless, but whose name rhymes with Mr. Smonderful—may or may not have backed into with his Jeep.
Anyway, that took care of hours 12, 11, and 10, and also depleted my nail supply (both the ones that go with my hammer and the ones on the tips of my fingers). But I was feeling the carp-HEN-try vibe, yes ma'am. It's like the adrenaline high I've heard runners hit: pushing past that initial I-wanna-quit-and-have-a-sandwich feeling and that peculiar pain from your throbbing thumb after hitting it with a hammer—twice—I was in carp-HEN-try bliss.
Hours 9, 8, and 7 came and went like lightning when I decided to try my hand at some pallet furniture. My little lounging chair was so cute, I made a table too (6, 5, and 4, respectively).
I lined a walkway with some large stepping stones and a few potted plants, hung some twinkly lights, screwed my wobbly old hutch/potting table to the carport wall for balance, and put my feet up.
Jane's Bistro is open, chickadees. Come sit a spell with me.