The adorable, always humorous MBA Jane is my way of honoring our Sisterhood Merit Badge program, now with 5,518 dues-paying members who have earned an amazing number of merit badges so far—7,451 total! Take it away, MBA Jane!!! MJ
Wondering who I am? I'm Merit Badge Awardee Jane (MBA Jane for short). In my former life …
For this week's Stitching and Crafting/Aprons Merit Badge, I was super psyched to earn my Expert Level Badge. I had the perfect opportunity for it, too: a couple of my girlfriends were opening a bakery downtown and my plan was to make us matching aprons (the frillier, the better) and have us all wear them as we gave out their mouth-watering, moist, decadent, frosted cupcake samples, thereby luring in customers for life with our yumminess and our farmgirl style.
Lest you think I was only there for the cupcakes, I assure you … I am all about aprons and the movement to bring them back to everyday fashion.
And incidentally, I do enjoy the occasional cupcake.
Or three.
But anyway, I had a grand time picking out my fabrics. That, in itself, would have fulfilled the three-hour time commitment this badge requires, but perhaps you are not so shoppingly indecisive as I. I finally (and I do mean finally) quieted my inner voice that kept telling me the even more perfect calico was just around the next clearance table, and happily
paid for my purchases:
a yard of pumpkin bedecked cotton
a yard of autumnal inspired plaid
and a yard of seersucker in a fall leaves pattern
Not to mention some ribbons and lace. Hey, remember, frill is the name of the game here.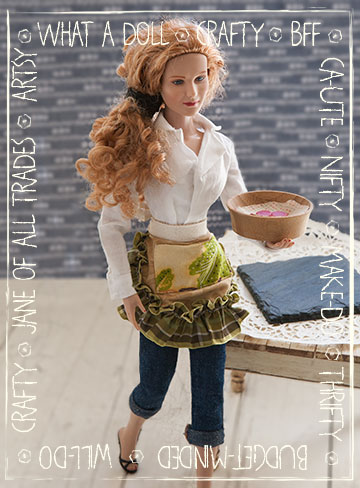 Having my three aprons matchy-matchy was on purpose, of course. Not only would the three of us look fabulous together, but I could use snippets of the other materials for one another's pockets and flounces.
Now, when it comes to aprons, the rule is … there is no rule. Some gals like theirs full, some like theirs halfsies, some like 'em totally wrapped around the tushy area, others like 'em just in front. Me? I like the half style, with a big ribbon for tying and looking cute, all the way around (I have a tendency to wipe my flour-bedecked hands on my jeans' back pockets), and there simply must be pockets, for things like my measuring spoons, my cell phone, and a handful of jelly beans. You know, in case of an emergency. You'd be surprised at how often a low blood sugar and snacking emergency occurs in the course of my day.
So, I brewed myself some tea, set aside the jelly beans, turned up the radio, and got to cutting and pinning. The fun thing about aprons is you don't really need a pattern, and if you make a mistake, do what I do:
Cover it with a frill.
By the time the cupcakes were cooled and ready for sampling, my aprons were ready to go. I wore my pumpkin haute couture creation with flair, and even added some lipstick for my afternoon out on the town. You know …
for the frill of it!