Welcome New Sisters! (click for current roster)
Merit Badge Awardees (click for latest awards)
My featured Merit Badge Awardee of the Week is … Sharon Demers!!!
Sharon Demers (Calicogirl, #5392) has received a certificate of achievement in Garden Gate for earning a Beginner Level Heirlooms Forever Merit Badge!
"~When planning our garden, I shopped both online (localharvest.org) and locally after researching catalogs, specifically for heirloom variety seeds.
~I read Gardening with Heirlooms by Lynn Coulter and thoroughly enjoyed it.
~I love reading the history of the seeds that I planted. It is like opening an historic novel instead of a seed catalog.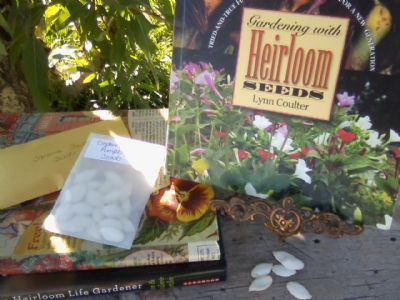 ~I thoroughly enjoyed Miss Coulter's book. It is now on my wish list. I love how Lynn calls heirloom seeds "living antiques." So appropriate! Also an inheritance of flavor and beauty from long ago. It caused me to remember a scene in Seven Brides for Seven Brothers with Howard Keel and Jane Powell. Adam is riding in the wagon with his bride, Milllie. Millie is excited on her journey to her new home, a cabin in the mountains. In her excitement, she tells Adam of her valuables: the Bible, another book, and a packet of seeds that her mother gave her. Oh, how we should be so excited about seeds!
Through the book, I obtained quite a bit of knowledge that I wasn't aware of. It was nice to see that, due to their genetics, heirlooms are usually resistant to pests, diseases, and extremes of weather.
~I am happy to report that more than 5% of our garden is heirloom plantings."