Welcome New Sisters! (click for current roster)
Merit Badge Awardees (click for latest awards)
My featured Merit Badge Awardee of the Week is … Terry Steinmetz!!!
Terry Steinmetz (Farmgirl Sister #3600) has received a certificate of achievement in Outpost for earning a Beginner & Intermediate Level Glamping Merit Badge!
"I started out by finding all sorts of things for glamping in my home. I found a basket to put some tea things into for traveling, doilies, and a small table. Then I went to an auction, where I purchased more doilies, a tea kettle, and dishes. Then I went on the Pack-n-Trail as the nurse with our wranglers from Bible camp for a week of "roughing it" in a tent. While there, I decorated for comfort! I posted on the Farmgirl Connection some info and pictures.
I read Glamping with MaryJane as soon as my copy came! What are dreams made of? Glampers & glamping! I invited my grandgirls to an overnight stay in my glamper parked on the back part of our property. We dressed up, had a tea party, blew bubbles, went for a nature walk, and enjoyed the day and night! I made cucumber sandwiches, carrots & celery sticks with berries & chocolate cake for dessert. Our tea was Arnold Palmer tea—half iced tea with half lemonade. I gave them each a recipe card to take home to Indiana.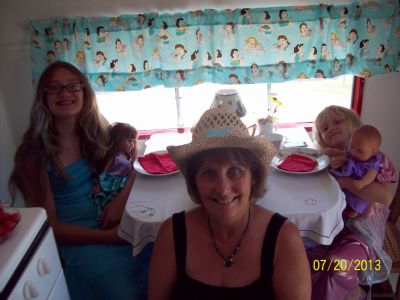 The tea party was a great success. We all love to dress up & have some fun. The grandgirls even dressed their dolls & brought them to the party. I loved to watch their eyes as they checked out the whole thing. Their love of the outdoors is refreshing for me to watch in them! We spent the night in the glamper, with a thunderstorm. The youngest one is 5 and all she asked was "Is it safe to be in here, Moosey?" When I told her "yes," she promptly rolled to her other side & went back to sleep until the morning. I am so glad that I could share my love of glamping with the girls. They still talk about it with me. I really have always loved to camp. Adding the glamp to camping is an added luxury that is fun & great!"
Terry, I love the fabric you chose for your curtains! MaryJane