Welcome New Sisters! (click for current roster)
Merit Badge Awardees (click for latest awards)
My featured Merit Badge Awardee of the Week is … Mary Jo Boyd!!!
Mary Jo Boyd (Quiltsister413, #5559) has received a certificate of achievement in Each Other for earning a Beginner Level Civic Heritage Merit Badge!
"I decided to visit the Henry Ford Museum in Detroit, Michigan. I am originally from Port Huron and now live in Ohio so this is right in between. When I was in grade school we used to take field trips to Greenfield Village and the Henry Ford Museum so this was a sentimental place to me as well.
We decided to go on Friday, November 22 because in honor of the anniversary of the Kennedy Assassination they offered free admission. The actual limousine he was riding in was on display. I went with my husband and my father-in-law who is a World War II veteran.
I enjoyed seeing the history of the auto industry, but there was so much more. My favorite was finding the perfect "glamping" camper! I also found some really cool vintage sewing machines and since I am a quilter, these were a treat.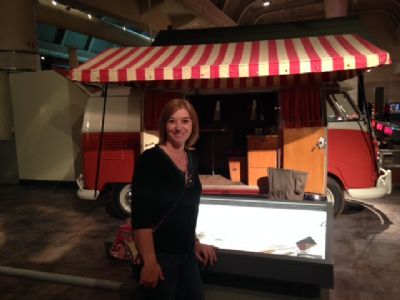 I was very excited to try to find the rock candy that I remembered from when I was a girl. It was homemade rock candy on a string. When we got to the gift shop the girl pointed to a display of pre-packaged rock candy suckers. I guess a lot has changed in 35 years.
My all time highlight of the day was seeing all the people stop to shake my father-in-laws hand and thank him for his service. He had worn his hat with his military pins and as I pushed him in his wheel chair strangers would stop us all through the day.
For the next level I want to find some local sewers/quilters and get to know them and how they have evolved over the years in their craft."