Oooh, I just stumbled upon a neat project! i sea change?
icey change?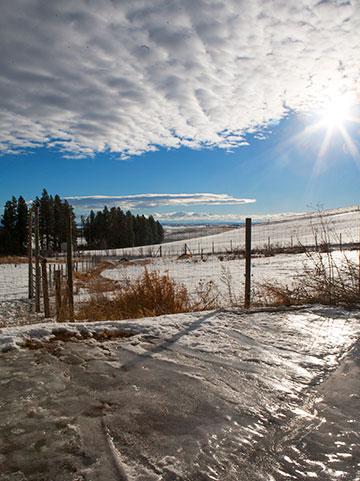 It's called the iSeeChange Almanac, and besides having a lovely website, it's also a revolutionary undertaking.
Instead of trying to explain it to you, take three short minutes to watch this video:
Imagine the power of collaboration between citizens and scientists …
People like you and me watch the weather roll through our local landscapes, we soak up the sensations of seasons shifting, and we notice subtle changes in the environments we call home.
"People know their own backyards," Julia Kumari Drapkin, the lead producer of iSeeChange, told Treehugger.
So, who better to speak up and record the odd dry creek, an unusual bird flock, or a grove of suddenly ailing trees?
If the climate is changing on a grand scale, WE are the ones who recognize the minute clues beneath our noses.
The earth around us is like a second skin.
This is what the iSeeChange Almanac is all about. Unlike its charming predecessor, the long-loved Old Farmer's Almanac, this evolving collective is meant to be continuously crafted by farmers, birdwatchers, gardeners, hikers, cyclists, ranchers, fishers, and casual observers of nature. It is interactive.
And scientists are paying attention.
"My greatest moment is when NASA sent a climate scientist to a rancher," Drapkin says.
Something is happening here, and we should all be a part.
Log in, pipe up, and keep the conversation going.