If you enjoy my daily Raising Jane Journal but haven't yet discovered my Farmgirl Sisterhood, read on …
We are Sisters — a sisterhood of, you guessed it, farmgirls. We're country, we're city, and every texture and stripe in between. It's not at all about where we live, but how we live. We get together to chat online, or we form in-the-flesh Farmgirl Chapters. We love to share stories, to craft, to garden, and to nurture the next generation of Farmerettes and Young Cultivators.  ("Sister" is an endearing term for adult women that I grew up hearing every day. If you've read my books, you'll know what the Sister thing is all about.)
Did you know you can get exclusive farmgirl privileges and specials when you join the Farmgirl Sisterhood? When you add your name to the Farmgirl Sisterhood list, you will receive a consecutive number according to when you signed up (for example, Farmgirl Sisterhood Member #750). We're now 5,800 Sisters strong! Once you're signed up, we'll mail your official Farmgirl Sisterhood badge depicting an adorable aproned hen, our official logo, ready to wear or embroider, and an official Farmgirl Sisterhood certificate. We also offer for purchase a Sisterhood necklace customized with your unique number. Over on the Farmgirl Connection chatroom, you'll get a special hexagonal Farmgirl Sisterhood designation by your name. And then every day we round up the day's new blog posts from our Sisters in one handy place on Girl Gab so you can see who's gabbing and who's gushing.
In addition, you'll start receiving our beautiful 70+ page monthly e-mail newsletter called the "Sister Issue," an easy way to click (er, cluck) your way back to the farm in between magazine issues.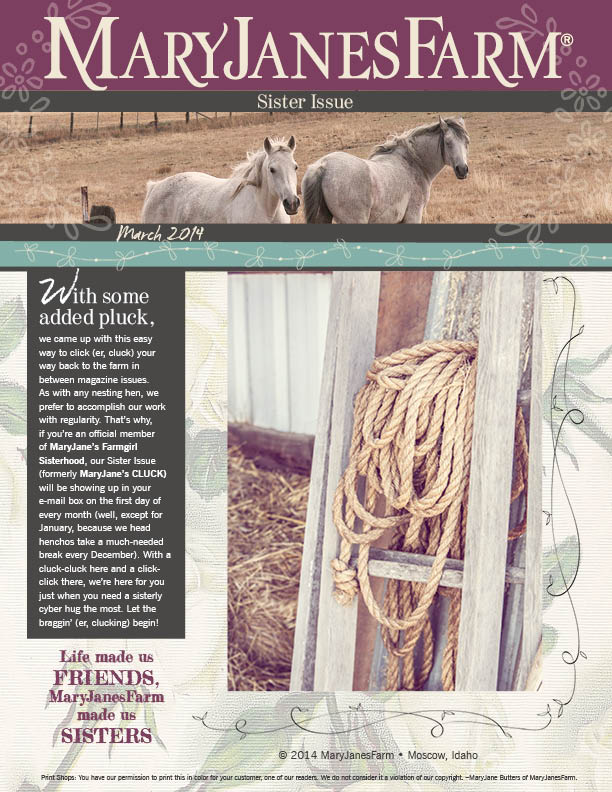 As with any nesting hen, we prefer to accomplish our work with regularity. That's why, if you're an official member of our Farmgirl Sisterhood, our Sister Issue will be showing up in your e-mail box on the first day of every month (well, except for January, because we head henchos take a much-needed break every December). It's packed with articles, exclusive recipes, favorite finds, special offers, and more. With a cluck-cluck here and a click-click there, we're here for you just when you need a sisterly cyber hug the most.
Here's Ashley's (my DIL) Farm Kitchen recipe from this month's newsletter: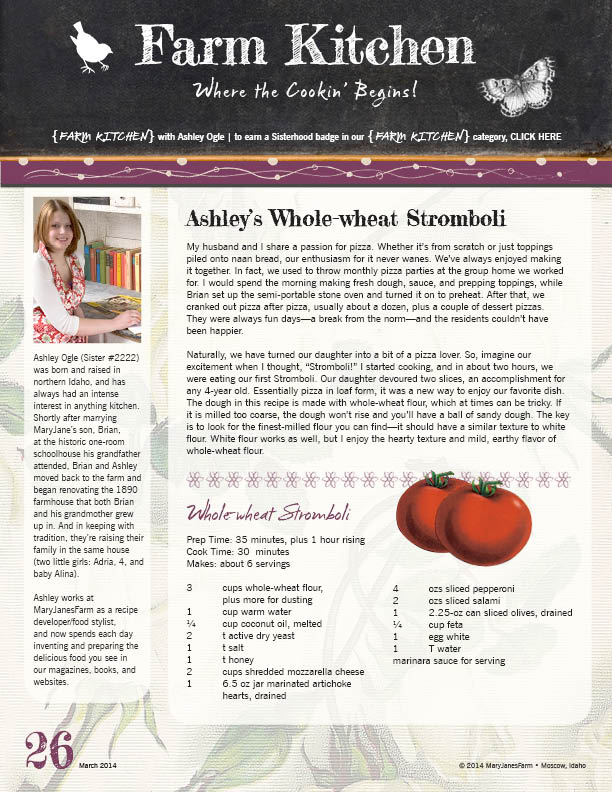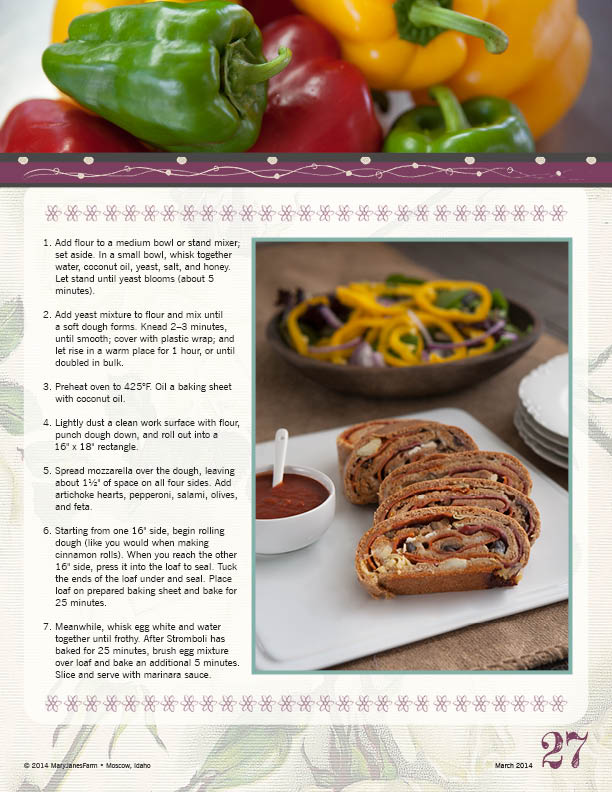 And here's one of our five "favorites" pages (we love to share our finds!).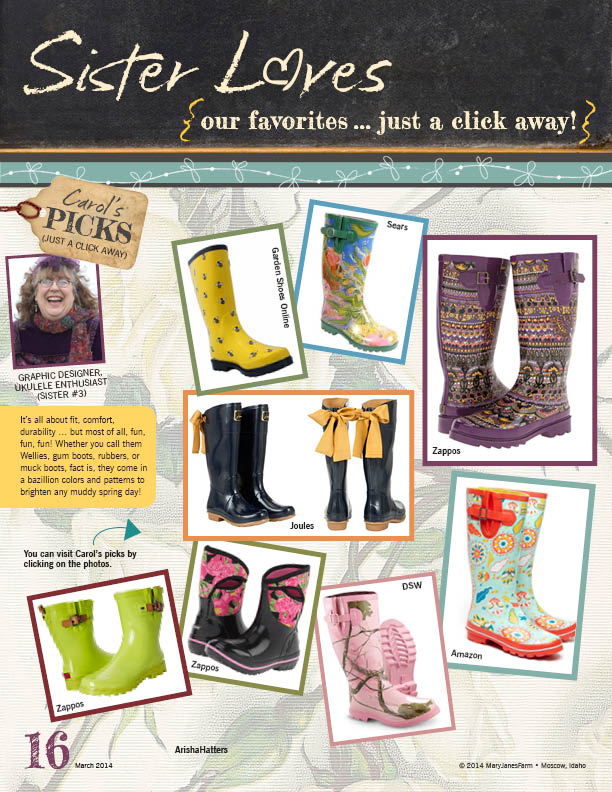 You'll also be eligible for "Members Only" special product offers from MaryJanesFarm, and you can start earning Farmgirl Sisterhood Merit Badges right away (think Girl Scouts for grown-ups) and post photos and narratives of your projects on our website (braggin' rights). In other words, you'll be strutting your farmgirl skills for all the world to see! Sisters have earned over 8,000 Merit Badges to date!
Members are also the only ones permitted to mentor Farmerettes (farmgirls-in-training between the ages of 14–18) and Young Cultivators (girls and boys between the ages of 6–13) and work with them to earn their own Merit Badges. But if you're not inclined to earn Merit Badges, there are plenty of other benefits to joining up. Whether it's cooking, stitching, gardening, make-it-yourself projects, going green, cleaning up, or just getting together, you'll gather with other farmgirls for lots of fun!
Ready, set, find out more!