Welcome New Sisters! (click for current roster)
Merit Badge Awardees (click for latest awards)
My featured Merit Badge Awardee of the Week is … Erin McBride!!!
Erin McBride (#3762) has received a certificate of achievement in Stitching & Crafting for earning a Beginner & Intermediate Level Origami Merit Badge!
"This was a fairly easy Merit Badge for me. I've been doing origami since I was pretty young. I was glad that I chose this category though, because I've never actually looked up the history of origami.
There is some debate about where it originated. It is likely that since paper originated in China (this is also under debate), the first origami was also practiced there. Since it is an art form made of paper, and paper degrades quickly, there is no evidence to support this. The paper invention made its way to Korea, and then to Japan. In Japan, origami developed into the art form we know today. The word "origami" comes from the Japanese word "ori," meaning folding, and "kami," meaning paper. This particular Japanese word changes "kami" to "gami" because of the way it is compounded.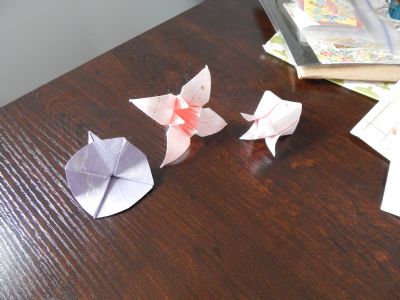 For the beginner task, I made a crane. It was pretty easy. I hadn't done any origami in maybe a year, so I just needed a little reminder here and there. I was glad to pick it up again because I have a lot of beautiful origami paper that a friend brought back for me from Japan. It was just sitting there, so I was very happy to make use of it.
For the intermediate tasks, I made the following:
Shapes: heart, star, interlocking star
Animals: whale, bird, swan
Flowers: morning glory, lily, tulip