Welcome New Sisters! (click for current roster)
Merit Badge Awardees (click for latest awards)
My featured Merit Badge Awardee of the Week is … Teresa Julian!!!
Teresa Julian (#1348) has received a certificate of achievement in Garden Gate for earning a Beginner Level Backyard Farmer Merit Badge!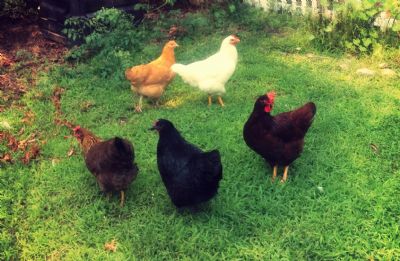 "I used to purchase farm-fresh eggs from a woman around the corner. I had always wanted my own flock, but my husband was not convinced that our suburban neighborhood would welcome them. Finally, after much debate, hubby agreed! I ordered 5 chicks from mypetchicken.com, and a few months later, we welcomed our newest additions to our family!
Buying organic feed is pricey, but at least I know that my chickens will be their healthiest … especially when they get to enjoy organic kitchen scraps too.
It's turned out AWESOME! My fresh eggs don't even compare to my neighbor's … I think it has something to do with the super-freshness from nesting box straight to the pan.
And by the way, not too long ago, I caught my wonderful husband taking pictures of the chickens. I guess they won him over.
We are expecting six more this April!"