At last, spring is in the air …
Daffodils, tulips and hyacinths are heralding the warm-up, so I dug out my one small white trumpet vase that was once part of a bigger Victorian centerpiece called an epergne—French word for saving—that radiated 2 to 7 "branches" that held small glass, metal, or silver trumpet vases as shown in today's photo (held upright by the use of a more common flower frog) … look up epergne on eBay—intact epergnes are a S-P-E-N-D-Y collector's item.
That's when a little birdie (named Megan) told me that she and her "nestlings" are already crafting their May Day doorstep surprises.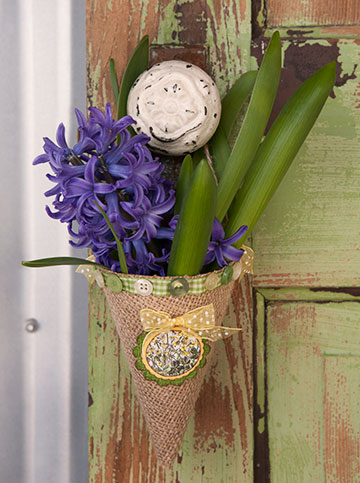 Right now, flowers are our fancy here at the farm. And that why I'm as happy as a spring chicken wandering around my own little paradise, watching for new blooms, but …
You know that I also love a virtual vacation—especially when I can talk you into tagging along.
How about it? Let's roam the sunlit countryside, visiting flower festivals across the U.S.
Are you game?
First stop:  the Sequim Lavender Festival in Sequim, Washington.
Southward we go to the Lompoc Valley Flower Festival in California.
Wagons east to Tyler, Texas, for the Texas Rose Festival.
On our way back up north, we'll head for Holland, Michigan, and the Tulip Time Festival.
Hold on to your bouquets because we're landing at the Lilac Festival in Rochester, New York next.
The last destination on our whirlwind tour is the International Cherry Blossom Festival in Macon, Georgia. It looks like an old-fashioned good time with a bounty of beautiful blossoms.
Now … aren't you glad we don't have a long ride home?