Welcome New Sisters! (click for current roster)
Merit Badge Awardees (click for latest awards)
My featured Merit Badge Awardee of the Week is … Courtney Robbins!!!
Courtney Robbins (FolkHearts, #4840) has received a certificate of achievement in Stitching & Crafting for earning a Beginner Level Knitting Merit Badge!
"When I was little girl, I wanted an American Girl doll more than anything in the world, but my parents didn't really have the extra money to spare on one. I came home from school one day, and my mother had sewed me a doll that was the same height and she had made me a whole bag full of knitted doll clothes! I loved my beautiful redheaded doll and all of the hand knitted sweaters!!!!
Two years ago, I asked my mother to show me how to knit so that I could someday make my children clothes and later pass the skill on to my grandchildren. My first project was a wavy rib pattern scarf. After that I started making knitted headbands with colorful knitted flowers with buttons. Recently, I have become a beginner with circular needles, which I had never tried before and found a little challenging to get used to.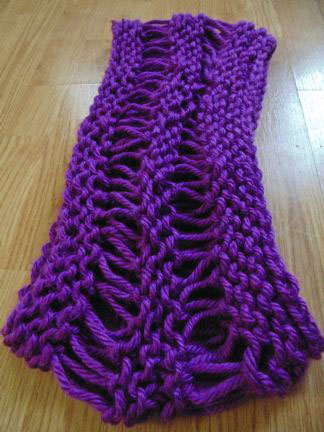 My most recent scarf, I would consider beginner level. It was a drop-stitch cowl pattern. I used super-bulky yarn and large needles so that I could wrap it around a couple of times. I gave my sister the purple one that I made and I kept a maroon-colored one for myself. During the process, I learned a new cast on for knitting in the round, I learned how to yarn over, drop a stitch, and practice on my circular needles. I am super-proud of the cowls, and I am anxious to make some more for this winter to give away for Christmas presents!!"