Welcome New Sisters! (click for current roster)
Merit Badge Awardees (click for latest awards)
My featured Merit Badge Awardee of the Week is … Courtney Robbins!!!
Courtney Robbins (#4840) has received a certificate of achievement in Stitching & Crafting for earning a Beginner & Intermediate Level Crochet Merit Badge!
"To earn my Beginner level badge for crochet, I thought I would try my hand at some MaryJane slippers! This pattern was a little complex for what I was used to, and the first time I tried to make them, I was camping, without help from my go-to crochet expert (Mum) and without electricity. I crocheted in the company of my soon-to-be sister-in-law while we were at camp, and as she knitted away, I crocheted away. After 10 hours of crocheting the soles and body for these slippers, I realized they were way too big! Huge, actually! I left camp feeling a little frustrated that I had spent all that time on these slippers that could fit my boyfriend!
I was determined to figure out this pattern, so every night after school for a few hours, I restarted them. Eventually, I figured out what I was doing wrong and managed to finish two even slippers! It took me another 10 hours to complete the darn things and a little extra time to pick out the perfect wooden buttons.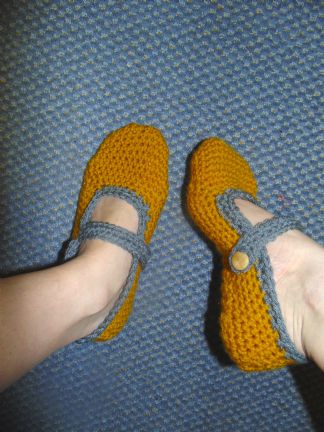 My MaryJane slippers are awesome! They are a perfect fit and really comfy and cozy on my feet. I used gray and yellow yarn, so they have a really beautiful contrast. The wooden buttons are a nice final touch and I am proud that I didn't just give up on completing them! I truly learned a lot through my struggle. For this pattern, I had to learn how to follow an intermediate pattern, practice my ch, dc, and I had to learn how to dc2tog. I also had to learn and practice my patience!!
Here is a link to the website where I found the free pattern (for personal use only).
To earn my Intermediate Knitting Badge, I wanted to try something a little more challenging than a cowl on my circular needles! My boyfriend's sister shared a really awesome knitting pattern with me that was for a cowl/shawl that was inspired by Katniss Everdeen from the new Hunger Games movie. I fell in love with the pattern and thought it would be a great challenge!
The pattern worked up in 3 sections. The first section was created like a sash/sling and I had to learn how to do a new stitch called the herringbone. This was challenging and I took it out and restarted several times!! After a few days of restarting, I finally figured it out and then had to switch the project over to circular needles for the second section. I had to practice my knitting in the round, and took on the new challenge of also picking up stitches, which I had also never done before. For the final section, I had to switch the project to smaller circular needles and finish it in the herringbone pattern.
For this project, I knitted in the company of my boyfriend, who was probably getting just as frustrated as I was listening to me grumble!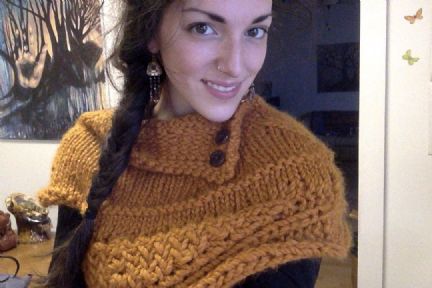 All of my frustration was worth it, though, and I stuck through it! My Katniss cowl came out awesome! It is so beautiful! I even spent extra time in my studio at school creating the perfect handmade ceramic buttons to give it its final touch. The cowl is super-neat and unique, and I have received so many compliments on it. This project made me so much more confident in my knitting, and I feel ready to take on a project like a sweater now … I just need to save up and buy some gorgeous yarn for it! I also am planning on making another one this fall to give to a close friend for Christmas."