If you were to step outside right now and close your eyes, what would you hear? I might hear the whispering rush of wind through pine needles (my daughter's most favorite sound on earth); happy hens clucking to one another; a songbird; or later tonight, the sound of bellowing frogs in my pond.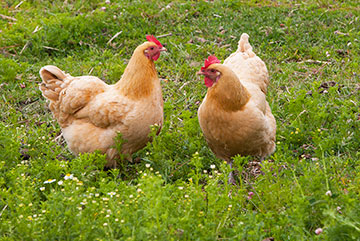 Few of us would hear exactly the same "soundscape," but rarely do we think about how sounds characterize the surroundings we call home. How fun would it be to eavesdrop on one another's auditory environments? And imagine if we could listen our way all the way around the world!
We could call it "traveling by ear."
Hold on to your hoops and dangles, girls, because we can do just that. A group of 35 professional nature recordists (who knew there was such a profession?) from around the globe have collaborated to develop Nature Soundmap, an interactive way of exploring the natural sounds of our planet. "Combining high-quality field recordings with the latest satellite imagery, the project brings together some of nature's most beautiful, interesting and inspiring sounds," the team explains on the Nature Soundmap website. "Immerse yourself in a pulsating insect chorus in Borneo's tropical rainforest, or climb the Himalayas and relax to the melodies of birdsong in an alpine meadow."
In effect, the entire world is at our ears. Many recordings in the site's collection are "binaural," meaning they're stereo recordings made with two microphones capturing sound in 360 degrees, a technique that accurately imitates the natural experience you would hear with your own ears. So, where does an auditory traveler embark? Visit NatureSoundMap.com (no fees or membership required) and click on "Main Map." You'll see hundreds of little green place markers across the map. To move to a specific region, click on the map and drag it to the desired location. You can then scroll in to see specific markers. Click on one, and a box will appear, describing the soundscape of a particular place. Click "listen," and get lost in the sounds of faraway places courtesy Mother Nature.