Welcome New Sisters! (click for current roster)
Merit Badge Awardees (click for latest awards)
My featured Merit Badge Awardee of the Week is … Betty Hoffman!!!
Betty Hoffman (#5589) has received a certificate of achievement in Garden Gate for earning a Beginner, Intermediate, and Expert Level Backyard Farmer Merit Badge!
"We have had chickens over the years. This year, we acquired Buff Orphingtons. They are in a movable pen with feed buckets for nesting areas that is moved every couple of days. This gives them more fresh grazing in addition to the laying pellets, chicken scratch, vegetable cuttings from the kitchen, and crushed eggshells that have been baked. The eggshells provide extra calcium. The nesting buckets are easy to remove and clean. My plan is to start making my own feed mix as organically as I can. I ordered dried mealworms to give them added protein during molting season.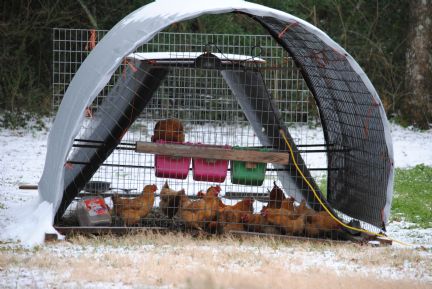 This picture was taken during the snow we had here in Texas. A light was also kept on them for extra warmth. We had eggs most of winter this way. Having our own chickens provides us with fresh eggs that we share with our extended family. I added an ending date, but this project is ongoing with plans to raise some for our freezer.
I have had a Nubian dairy herd going on 3 years. I am currently milking 15. Before acquiring a milking machine, my husband was helping me milk them by hand. The machine really saves us time and is easier on my hands, and I can get it done by myself now. I taught my oldest granddaughter how to milk. She is 11 years old. My granddaughter has really enjoyed helping at milking time when she is here. My daughter-in-law helps out now when she can. I make soft cheese with our goat milk from our farm.
We were gifted with a grass-fed calf in exchange for feeding the livestock on a friend's farm. We had it butchered and processed. Knowing where it came from is a great feeling in feeding our family. The meat is very tasty and good. We plan to buy now from the ranchers local to us. Knowing that this calf was humanely raised and fed naturally will make it better for us to consume. The meat turned out to be very good in texture and taste.
The pictures enclosed are the pictures of animals and scenes from our farm that will be made into note cards."