Welcome New Sisters! (click for current roster)
Merit Badge Awardees (click for latest awards)
My featured Merit Badge Awardee of the Week is … Nancy Boyd!!!
Nancy Boyd (#2508) has received a certificate of achievement in Garden Gate for earning a Beginner Level Gaining Ground Merit Badge!
"I began earning this badge in August 2013 by reading the book Worms Ate My Garbage by Mary Appelhof. Then I purchased my worm bin from a local store here in the Columbus, Ohio, area named "City Folks" that has a lot of great stuff for the urban farmer. Shawn, the owner of the store, was able to get my supply of Red Wigglers from a local guy she uses for customers. I came home and started up the bin and added my great Red Wigglers to do their stuff. I feed them a lot of good decaying and moldy stuff, along with making sure they stay moist with newspaper sprayed with spring water.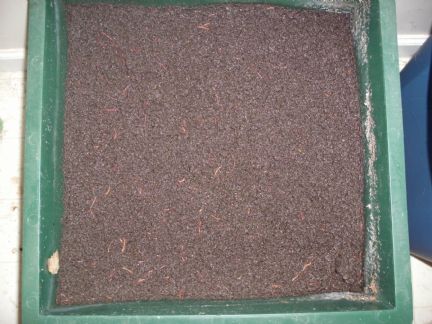 The Red Wigglers have created a great bin of Black Gold for me to start using in my flower beds and raised-bed gardens. In fact, I am getting ready to start a second-tier bin on their tower. YEAH!! Go Red Wigglers!"